Carrying Large Amounts of Cash Through the Airport
Carrying large amounts of cash is not an illegal act in and of itself. Despite the popular misconception, under U.S. law, there is no legal penalty for holding any sum of cash in any U.S. jurisdiction. While handling large sums of cash, e.g., greater than $10,000, is an unusual and potentially dangerous experience, you cannot be arrested or charged for being in possession of the money – albeit it may raise questions with law enforcement regarding the purpose of the cash and for what it was obtained. You also invite the risk of theft – losing all the money with little chance of compensation.
When flying, the legalities of carrying large amounts of cash become more complicated. You're still allowed to travel with large sums of cash, but you must declare the volume of cash you wish to bring into the country.
In this article, we will explore the legalities surrounding carrying large amounts of cash and the popular misconception surrounding the myth that carrying over $10,000 in cash is illegal.
Carry Large Sums of Cash Through an Airport
Under U.S. law, the transport of more than $10,000 in American currency isn't expressly prohibited. In fact, individuals can theoretically travel with any amount of cash and not violate any law. However, if traveling with large sums of cash, you must report the sum to the U.S. Customs Service if traveling internationally. You will be asked to fill out form FinCEN105 – and you may be interviewed by law enforcement to explain the purpose of the cash you're carrying.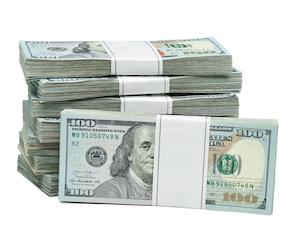 Perhaps the most obvious concern about an individual carrying large amounts of cash through a port of entry is a connection to narcotics and the sale of other drugs. During your interviews, law enforcement agencies, like the Drug Enforcement Agency (D.E.A.), can seize your cash if they reasonably believe that your answers or general demeanor do not reasonably explain why you possess such large sums of cash.
In one case, an individual carrying $75,000 was investigated. Due to their findings, the cash was seized, and the traveler continued on their flight.
Specific currencies will have unique regulations specifying the amount of currency tolerated crossing borders without declaration. The IATA Travel Center publishes country-specific information about currency limits.
In short: if you are planning to carry large sums of cash through an airport, ensure your reasons for doing so are transparent, legal, and legitimate.
Potential Confiscation of Large Amounts of Cash
Despite there being no law against possessing large sums of cash, it is inadvisable to keep excess cash assets on your person. According to the American Civil Liberties Union (ACLU), a collection of laws known as "Civil Asset Forfeiture" allow:
"…federal and state law enforcement agents [to] seize millions of dollars [annually] from civilians during traffic stops, simply by asserting that they believe the money is connected to some illegal activity and without ever pursuing criminal charges. Under federal law and the laws of most states, they are entitled to keep most (and sometimes all) of the money and property they seize."
Civil Asset Forfeiture does not need assets to total greater than $10,000 – any amount of cash suspected of being connected to illegal activity can be confiscated with few options for recourse available. If cash is taken during such a seizure, it will not likely be reclaimed.
The Origins of the $10,000 Myth
Carrying large sums of cash isn't risk-free, even if it is 100% legal. Nevertheless, there are considerable rumors about the $10,000 threshold, with many believing it is illegal to carry cash greater than this amount.
According to Snopes, this misconception likely arose from the Currency and Foreign Transactions Reporting Act of 1970, also known as the Bank Secrecy Act (B.S.A.). Created to inhibit money laundering, the B.S.A. necessitates U.S. financial institutions to detect and prevent money laundering, including filing reports of cash transactions exceeding $10,000.
Trusted Los Angeles Defense Attorney
Carrying large sums of cash through an airport or having your cash confiscated for a suspected drug crime is often an individual's first offense. The loss of such money can cause stress and anger. However, you can seek compensation and defense depending on the circumstances. Speak to a trust L.A. defense lawyer to explore your options if you were charged with a crime related to carrying large sums of cash.