Accomplice Fugitive and The Law
Accomplice Fugitive What it Really Means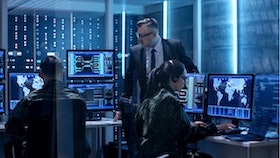 The idea behind being an accomplice fugitive is tied to laws pertaining to aiding and abetting. It means that you aren't necessarily directly involved with a crime, however, you have assisted someone that has committed an act defined by law as a crime.
In a court case such as this, there are two primary defendants:
Principal perpetrator- This is the individual that has actually committed the crime, it can be a single person or a group.
Accomplice- This is the individual that in some way, shape, or form has provided aid to the principal perpetrator. This aid could take place at any point during the crime; it could be during the events themselves, it could be having involvement in planning a crime, or it can be after the crime has taken place.
Acting as an accomplice has different levels of criminal activity tied to the definition. What this means is to say there are different levels of support when defined in a criminal law case. Examples are:
Abetting- This is the act of convincing another to commit a particular crime. It could be some form of incitement or encouragement and it normally tied to a singular act.
Aiding- As the word states, it's an act of aid that in some way or another is an act of assistance or support in the commitment of a crime.
Accessory- An accessory is defined by law as someone that does any of the above in the act of what is categorized as a crime. Legal terminology will typically associate the term with a defining title of "before the fact" or "after the fact," which is for legal discussion that clearly identifies when their actions involving the crime come into play.
A few examples of what might be considered aiding, abetting, and acting as an accessory would be:
Providing transportation either to or from a location that involves a criminal act
Misleading authorities that are pursuing a case in an effort to protect a particular individual or group
Being involved in hiding items that are involved with a crime; whether they be stolen items or items that were used during a criminal action
Helping hide or protect the individual that committed the act, also known as the principal perpetrator
How Being an Accomplice is Proven
The process of applying these charges to someone involves proving specific legal implications. In order to charge someone with these offenses the prosecution needs to prove:
Before the Fact
By definition of law that a criminal act has been committed
An individual offered assistance in an intentional effort to help commit a crime
The person being accused of this crime acted before it was committed
After the Fact
A crime has been proven to have taken place
An individual took it upon themselves to help the person who committed the crime evade authorities. This could be by giving misleading information or providing financial means for the accused to escape.
Legal Consequences of Acting as an Accomplice
To highlight a specific legal consequence for the act of acting as an accomplice has a wide array of possibilities. It comes down to the act that is being committed. If it is a lesser offense it could fall within the realm of a misdemeanor, however, it could carry the weight of being a felony charge.
With this in mind, the penalty that is applied to the principal perpetrator can also be applied to the accomplice involved. This creates all the more urgency to make sure that you have proper representation in the event you fall into these circumstances.
Hire an Experienced Los Angeles Defense Attorney
Being charged as an accomplice in any kind of crime can turn someone's world upside down. Someone could unintentionally have aided someone committing a crime and find themselves under these charges, and without the proper legal guidance can find themselves under an incredible stir of consequences. The right defense attorney can help navigate these legal circumstances, tell your story, and preserve your life.
William Kroger is a defense attorney that has put more than 20 years honing his practice and helping keep his client's rights as a central focus. Legal proceedings can be a discouraging and dark place, but with effective counsel, you can regain control of your circumstances and find a better tomorrow.
Allow the opportunity to improve your situation by contacting William Kroger today. You can contact his office at (323) 655-5700 or online by clicking here.
Initial consultations are free of charge.