Making a Bomb Threat
Bomb threats are when a person threatens to use a bomb to force an individual or institution to comply with certain demands or to instill terror and panic. Most often, no bomb exists, and the threat is empty – although institutions and law enforcement cannot afford to take such a risk. Not all bomb threats are hoaxes, and vigilance must be maintained if and when a threat is made.
The reason for making a bomb threat varies radically. Some individuals can make a bomb threat in order to rob a bank, while a student may use a bomb threat to avoid responsibilities like an upcoming exam.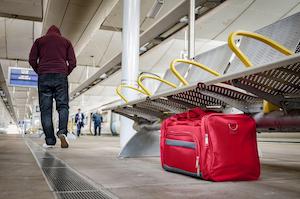 Regardless, the consequences of making a bomb threat are severe under state and federal law.
In this article, we will explain the consequences of making a bomb threat (under state or federal law), what factors are involved, and who is charged with investigating the threat.
Who Is Responsible for Investigating a Bomb Threat?
Most bomb threats made are a hoax. Nevertheless, depending on the threat's credibility or the entity threatened, a number of government agencies may be called in to investigate. These include:
The Federal Bureau of Investigation (F.B.I.)
The Department of Homeland Security
The Secret Service
The Bureau of Alcohol, Tobacco, and Firearms (A.T.F.)
Given the immense resources implemented to tackle a bomb threat, an individual faces serious consequences regardless of whether it was a hoax.
The Consequences of Making a Bomb Threat
Federal law
Under federal law, 18 U.S.C. § 1038 specifies that anyone intentionally making a false bomb threat that "may reasonably be believed" may be fined or imprisoned for up to five years. If a serious bodily injury occurs while making a false bomb threat, the sentence can rise to up to 20 years. If death occurs, the individual can be fined or imprisoned for any number of years up to life, or both.
A separate law governs genuine bomb threats, 18 U.S.C. § 844, which states that anyone willfully making a threat or maliciously conveying false information in an attempt to injure, kill, or destroy property using explosives can be fined or imprisoned for up to 10 years, or both. Teaching or demonstrating how to make explosive equipment can increase the potential prison sentence to up to 20 years.
State law
Every state has a specific law to deal with bomb threats. Under Californian law, a false bomb threat can lead to up to a year in county jail and a fine of up to $1,000; the statute dictates that the false report must be made to specific individuals, such as a peace officer, airport employee, newspaper reporter, and the person making the threat must know it is false.
According to California Penal Code 148.1, false reports of a bomb are considered a misdemeanor. However, the threat must be:
Non-specific
The recipient could not have reasonably feared for their safety
The recipient's fear was fleeting or momentary or wasn't actually fear
Your gesture was threatening and was not conveyed verbally or in writing.
If a person is found guilty of making a false bomb threat, it will lead to a permanent scar on their record. It can cause difficulties in finding employment, owning firearms, and retaining loans.
Bomb threats in the U.S.
The majority of bomb threats in the U.S. are made against government buildings and places of employment. The primary motivation is typically political grievances, a disgruntled employee, or complaints against the legal system. The remaining bomb threats are often against the school – which can carry worse penalties for the perpetrators.
You should never make a bomb threat. You will be caught and face immense penalties, including spending considerable time behind bars.
Hire a Resourceful California Criminal Defense Attorney
You need immediate, reliable legal counsel if you have been accused of making a bomb threat. Your attorney should be familiar with state and federal criminal law concerning bomb threats. Given the significant fines and sentences associated with bomb threats, ensuring you have a quality and experienced attorney is of the utmost importance.
Contact William Kroger, Attorney at Law, today to discuss your case with an experienced criminal defense attorney. Call 323-655-5700 for more information.