California Airport Offenses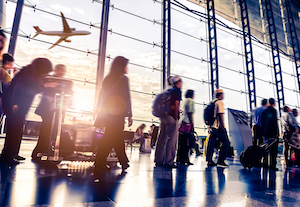 Being at an airport is a stressful enough experience for most travelers, but being arrested at one is infinitely worse. An airport arrest most frequently takes place when someone violates California Health and Safety Code 11350 (a)—the possession of illegal drugs. Many arrests also happen due to travelers trying to bring unlawful weapons on board, being disruptive, or assaulting airline workers. Ever since 9/11 airport security has increased and lead to even more arrests.
Airport crimes are all the more complicated due to how federal, state, and international laws can intersect at an airport. Although most airport crimes are prosecuted in state court, some do make it to federal court. Whatever the case, if you or someone you love is facing criminal charges due to an airport arrest, we can help you. Call the Law Offices of William Kroger today to learn more about your rights. Schedule a free consultation with one of our attorneys at 323-655-5700.
Common Airport Crimes
The most common airport arrests happen for drug crimes (possession of marijuana, possession of controlled substances, possession of drug paraphernalia), possession of concealed weapons, assault of airline workers, disruptive behavior, and bench and arrest warrants.
Possession of Marijuana
Possession of any type of illegal substance at the airport is going to result in an arrest. Los Angeles is a prominent destination for many travelers, and thus subject to strict TSA screening.
Laws on marijuana are constantly evolving, and as some states have legalized the recreational use of pot, travelers have started bringing it with them to the airport. Unfortunately, traveling with marijuana is not a good idea. While cannabis is legal in some states, it is still illegal under federal law. And seeing as federal law governs airplane travel, it would be illegal to fly with pot, even to and from states that have legalized it.
If you are charged with possessing less than an ounce of marijuana, you are facing an infraction punishable by a fine of $100. Those possessing more than an ounce face a misdemeanor with a maximum sentence of six months in county jail as well as a fine.
Possession of Weapons
In order to avoid an unlawful gun possession charge at an airport travelers must abide by certain guidelines. Carrying a firearm onto an aircraft is a crime. If convicted, you might be facing up to 10 years in prison, and a maximum $250,000 fine.
Unlawful possession of a weapon at an airport can result in a misdemeanor punishable by six months to one year in county jail. If the charge is a felony you could be facing a prison sentence.
Some of the prohibited items include firearms, BB guns, ammunition, grenades, knives with a blade greater than four inches, tear gas, and tasers.
Disruptive Behavior
Disruptive behavior is taken very seriously by airport personnel. If you in any way prevent workers from being able to carry out their duties you may experience severe consequences. Examples of disruptive behavior include verbal threats, physical threats, assault or intimidation.
Penalties for disruptive behavior can be very severe and you may be subject to both criminal and civil penalties. If you're convicted, you face up to 20 years in prison for an unarmed offense, and up to life in prison for an armed offense, as well as fines up to $10,000. You may also end up on the no-fly list.
Arrest Warrants
If you are traveling with an open arrest warrant, there is a chance that you're going to be detained and potentially arrested at the airport, all depending on the seriousness of your warrant. This is why it's crucial for anyone traveling to take care of his or her warrants beforehand.
Defenses to Airport Arrests
Despite the fact that airports have increased security, the Fourth Amendment to the U.S. Constitution still applies, and prevents authorities from unreasonable searches and seizures. The attorneys at Kroger Law are highly experienced and knowledgeable in regards to challenging the legality of airport searches. We've also helped our clients get diversion programs, and have even successfully worked with law enforcement to avoid charges altogether. The key to a successful defense is to contact a criminal defense attorney right away and get started on a defense strategy as quickly as possible.
Contact A Los Angeles Criminal Defense Attorney
Being arrested at the airport can be an extremely terrifying situation. At Kroger Law we have vast experience handling cases for various type of airport arrests. It's imperative that you contact an attorney right away and get started on a proactive defense.
If you've been arrested at any airport in the Los Angeles area, including LAX, Long Beach Airport, or Burbank Airport, you should speak with an attorney right away. Call the Law Offices of William Kroger today at 323-655-5700 to schedule a free consultation.