LA Municipal Code 104.15: Unlicensed Marijuana Operations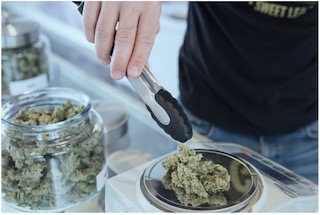 Despite the state's legalization of marijuana, California struggles with unlicensed cannabis dispensaries. Unlicensed dispensaries offer cheaper, unregulated products, but cause legal problems not only for the owners but also employees.
When the police raid an illegal marijuana storefront, everyone, including the employees, gets arrested and charged under LA Municipal Code 104.15: Unlicensed Marijuana Operations.
This enforcement approach discriminates against the workers, who in many cases have no idea they were working in an unlicensed cannabis shop.
If you've been arrested in an illegal dispensary, contact a Los Angeles criminal defense attorney for a free consultation and representation.
The presence of illicit dispensaries has led to increased crime, including drug sales and violent incidents. Law enforcement has made little progress in curbing the black market and quick reopenings of shut-down dispensaries.
It's estimated that less than 1 out of every 5 dispensaries in Los Angeles is licensed.
What is Los Angeles Municipal Code 104.15 Unlawful Cannabis Related Activity?
The Los Angeles Municipal Code has an entire section dedicated to regulating and outlining penalties for unlicensed marijuana operations within LA.
These penalties can have far-reaching consequences, affecting not only owners of unlicensed businesses but also their employees and landlords.
LAMC Section 104.15 states:
It is strictly prohibited for any individual to establish, operate, or engage as an employee, contractor, agent, or volunteer in any unlicensed Commercial Cannabis Activity within the boundaries of the City.
It is strictly prohibited for any person to establish, operate, or engage in a cannabis business, a medical marijuana collective or cooperative, except within a dwelling unit where three or fewer qualified patients, persons with identification cards, primary caregivers, or any combination thereof are present.
The aforementioned prohibitions extend to the act of renting, leasing, or granting permission for any unlicensed Commercial Cannabis Activity, a medical marijuana collective, or cooperative to occupy or utilize any building or parcel of land.
In addition, it is illegal to:
Own or conduct operations within an Unlawful Establishment.
Participate in any capacity, whether as an Employee, contractor, agent, volunteer or otherwise, in an Unlawful Establishment.
Utilize any portion of a parcel of land for the purpose of an Unlawful Establishment.
Lease, rent, or otherwise permit an Unlawful Establishment to occupy any portion of a parcel of land.
LAMC 104.15 Explained
Los Angeles Municipal Code §104.15 deals entirely with the enforcement and compliance of unlicensed marijuana operations within the city, including commercial grow operations, illegal commercial sales, and even medical marijuana collectives.
Here's what you need to know about LA Municipal Code 104.15 broken down in plain English:
It is illegal to own or participate in an unlicensed marijuana business in any way
This section also applies to medical marijuana collectives or cooperatives, unless you are living in a dwelling unit with three or fewer:
Qualified patients
People with proper medical marijuana ID cards
Primary caregivers, or
Any combination of the above
These penalties also apply to landlords or anyone who leased, rented, or gave the property to an unlicensed business, even if that person had no knowledge of the unlicensed business operating within
Essentially, this section dictates that anyone involved with an unlicensed marijuana business can be charged with a violation of section 104.15 and receive the penalties which we'll outline below. What Are the Penalties for Being Charged with Unlawful Cannabis Activity?
LAMC §104.15 outlines the penalties for anyone involved in the illegal business of unlicensed marijuana dispensing, including owners, landlords, employees, and contractors. The penalties for violations of this section include:
Fines of up to $20,000 total
Imprisonment in county jail
Water and utilities being shut off to the property
The penalties for violating Los Angeles Municipal Code §104.15 come in several forms, monetary and otherwise. We'll break them down by category.
The penalties for violating LAMC 105.14 are:
You can potentially be charged by the city attorney for being a public nuisance, which can include:
Restraining orders
Fines of up to $20,000
A misdemeanor charge, for which you could receive:
A fine of up to $1,000
A county jail sentence of up to 6 months, or
Both a fine and jail time
Water, power, and other utilities can be cut off to the property where the activity is taking place, if:
The LAPD gives written confirmation that illegal marijuana activity is occurring, and
The Department of Cannabis Regulation (DCR) gives written confirmation that the business or operation does not have a temporary license for such activity
It is important to note that each day the violation continues is treated as an entirely new offense. The penalties will accumulate, up to a maximum civil fine of $20,000.
If you don't have a financial interest in the unlicensed operation, you may instead be given a citation through LA's Citation Enforcement Program and avoid a misdemeanor charge, though this is not guaranteed.
If you are currently facing charges for violation of LAMC 104.15, or any other marijuana-related business violations, contact us immediately at 323-655-5700 or online for a free consultation.
William Kroger is an experienced LA drug crime attorney with a long history in marijuana law. Attorney Kroger has assembled a legal team for your best chance for a successful illegal weed, dispensary, or cannabis products defense.
What Are the Liabilities of a Landlord of an Unlicensed Dispensary?
One of the most far-reaching effects of LAMC §104.15 has to do with the way in which it affects landlords or owners of the property on which the unlicensed cannabis business, dispensary, or collective was operating.
As a landlord, or anyone who owns, leases, or rented the property to the illicit commercial operation, you are fully liable and will face the exact same charges and penalties.
This also applies if you are allowing the commercial activity to operate there for free or without any formal pay arrangement.
Simply put, if they are operating on your property, you could face the same charges and penalties as the illegal marijuana dispensary and its employees.
Can I Be Charged Even If I Didn't Know My Tenant Was Operating an Illegal Marijuana Dispensary?
Landlords don't always know what is happening on their property. Even with regular inspections of the exterior of the property, the landlord or leasing agent may have no idea what is happening within.
Unfortunately, you can still face the exact same charges and penalties as a landlord even if you had no knowledge of the unlicensed activity.
Even in cases where the landlord could prove they had no reasonable knowledge of the unlicensed operation, the outcome was the same.
What are the Penalties for Having an Illegal Cannabis Shop on My Property?
The penalties for being the owner or landlord of the land or property on which the unlicensed activity was taking place are the same as the penalties already outlined above.
The code makes no distinction between the parties involved in the unlawful activity, regardless of their knowledge of the activity or not. As a landlord, you will be charged the same as those operating the business.
What Are Some Additional Building Code Violations Associated with an Illegal Dispensary?
In addition to the enforcement penalties laid out in LAMC §104.15, landlords could also be charged with a building code violation pursuant to Los Angeles Municipal Code §12.21.
LAMC §12.21 is a general provision against using a property in a way for which it was not licensed, and carries administrative fines based on the number of previous offenses and square footage of the property.
The exact fine varies based on those two factors, with a minimum of $1,000 and a maximum of 64,000 for very large buildings for which three or more citations have already been issued.
This general charge is often used against landlords to further ensure compliance with marijuana licensing within the city.
The chart detailing the structure of the fines can be found within LAMC 11.2.04. Other building codes commonly charged with unlicensed marijuana dispensaries are 57.111 (unsafe building), 57.506 (key boxes), and 57.604 (electrical wire hazards).
How a Criminal Defense Lawyer in Los Angeles Can Help
Los Angeles Municipal Code §104.15 and other Los Angeles laws have far-reaching effects, not only on the owners of the unlicensed business but also on those who may have had no knowledge of the illegal nature of the business, such as landlords and employees.
We understand the severe impact even a minor drug-related misdemeanor charge in LA can have on a person's life, and we strive to ensure you will not have to face that reality.
Contact The Law Office William S. Kroger Today
William Kroger has been a known and trusted LA drug crime defense attorney for decades. In addition to a 95 Percent Success Rate on Cases Taken by Mr. Kroger, he has a history of having drug charges in LA reduced or dropped entirely.
If you were arrested by the Los Angeles County Sheriff's Department, LAPD, DEA, or other law enforcement agency, for violation of marijuana licensing laws in the Los Angeles area, contact us immediately for a free consultation to discuss your case.
Find out how we are your best chance for a successful defense against criminal marijuana charges in Los Angeles, and if the Law Office of William Kroger is the right firm for you.