CBD & the Law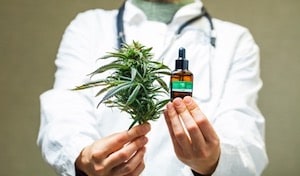 California has an ever-growing market for CBD products. But it's important to stay within legal limits when possessing, selling, or manufacturing CBD. The laws are constantly evolving and changing, which is why it's wise to seek counsel of a Los Angeles CBD lawyer if you have any questions or legal issues concerning the regulation and policy of CBD products. Our firm can help you stay compliant or work out any legal issues you might currently have when it comes to the CBD business. Contact Kroger Law Firm today for a free consultation at (313)-655-5700.
What is CBD?
Cannabidiol (CBD) is a naturally occurring cannabinoid found in cannabis that is often used to treat pain and seizures. Unlike its chemical cousin, THC, CBD is a non-psychoactive compound: meaning that it has little effect on the mind in terms of consciousness and perception. This is what can make it appealing to people seeking relief from various illnesses. However, it is worth noting the difference between CBD Dominant and CBD Rich products. CBD Rich products can often carry an equal dosage of THC, or at least a significant amount. On the other hand, CBD Dominant products contain little to none THC contents, which make them optimal for potential treatment. Los Angeles CBD Attorney William Kroger is well versed in the legal nuances related to CBD and conflicting state and federal laws.
What Does the Law say About CBD?
Federal Law
In September 2018, the DEA Administrator moved FDA-Approved CBD derived from Cannabis that contains less than 0.1% THC to Schedule V from Schedule I.
It is worth noting however, that few CBD products are FDA approved, or will attain FDA approval.

There is some concern that re-scheduling of CBD gives large pharmaceutical companies control over the CBD market since smaller companies often cannot afford the rigorous process of FDA-approval.

DEA Schedule I drugs are considered to have:

No medical use
High abuse potential
Lack of accepted safety

DEA Schedule V drugs are considered to have:

Some medical use
Low-abuse potential
Safe in specific doses

The Farm Act holds that entities may have the right to grow Hemp.

The 2014 farm bill held that states could ––in conjunction with institutions of higher education–– research and grow hemp if those states had legalized hemp production.

CBD can also be derived from hemp.
State Law
California voters enacted Prop 64 in November 2017.
Prop 64 is renowned for recreationally legalizing marijuana, but it also holds implications for CBD and Hemp.
Specifically, Prop 64 allows for the legal production of industrial hemp in the State of California.
Given that CBD can be hemp-derived, Prop 64 is interpreted by many to have legalized the production of CBD.
What are the Penalties?
If you manufacture, distribute, or possess CBD, you still may face drug possession or trafficking charges under federal law.
Legal Defense: Where We can Help
The Kroger Law Group and Mr. Kroger have represented clients accused of every type of marijuana crime on both state and federal levels. Mr. Kroger is a legal expert on marijuana law in California with years of practice. We have deep knowledge of the cannabis industry and cannabis regulation laws.
Contact a Los Angeles CBD Lawyer
Navigating the law when it comes to CBD products is best done with an experienced and knowledgeable attorney on your side. We can advise you on any legal issues surrounding the sale or manufacturing of CBD in the state of California. Contact the Law Offices of William Kroger today for a free consultation at (313)-655-5700.