CBD & the Law
What is CBD?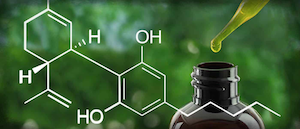 Cannabidiol (CBD) is a naturally occurring cannabinoid found in cannabis that is often used to treat pain and seizures. Unlike its chemical cousin, THC, CBD is a non-psychoactive compound: meaning that it has little effect on the mind in terms of consciousness and perception. This is what can make it appealing to people seeking relief from various illnesses. However, it is worth noting the difference between CBD Dominant and CBD Rich products. CBD Rich products can often carry an equal dosage of THC, or at least a significant amount. On the other hand, CBD Dominant products contain little to none THC contents, which make them optimal for potential treatment. Los Angeles CBD Attorney William Kroger is well versed in the legal nuances related to CBD and conflicting state and federal laws.
What Does the Law say About CBD?
Federal Law
In September 2018, the DEA Administrator moved FDA-Approved CBD derived from Cannabis that contains less than 0.1% THC to Schedule V from Schedule I.
It is worth noting however, that few CBD products are FDA approved, or will attain FDA approval.

There is some concern that re-scheduling of CBD gives large pharmaceutical companies control over the CBD market since smaller companies often cannot afford the rigorous process of FDA-approval.

DEA Schedule I drugs are considered to have:

No medical use
High abuse potential
Lack of accepted safety

DEA Schedule V drugs are considered to have:

Some medical use
Low-abuse potential
Safe in specific doses

The Farm Act holds that entities may have the right to grow Hemp.

The 2014 farm bill held that states could ––in conjunction with institutions of higher education–– research and grow hemp if those states had legalized hemp production.

CBD can also be derived from hemp.
State Law
California voters enacted Prop 64 in November 2017.
Prop 64 is renowned for recreationally legalizing marijuana, but it also holds implications for CBD and Hemp.
Specifically, Prop 64 allows for the legal production of industrial hemp in the State of California.
Given that CBD can be hemp-derived, Prop 64 is interpreted by many to have legalized the production of CBD.
What are the Penalties?
If you manufacture, distribute, or possess CBD, you still may face drug possession or trafficking charges under federal law.
Legal Defense: Where We can Help
William Kroger is the foremost legal expert on marijuana law in California. While he practices all types of criminal law, marijuana crimes are what have set him apart from all other attorneys over the last decade. He has represented clients accused of use, cultivation, transportation and sales in the state and federal level on hundreds of occasions. Mr. Kroger was the only marijuana lawyer involved with the City of Los Angeles when implementing the initial interim control ordinance to regulate medical marijuana shops in 2007. Mr. Kroger also taught "Marijuana and the Law" at Oaksterdam University, an institution established in the San Francisco Bay area to educate medical marijuana growers and dispensary owners. He was also handpicked to teach a class about medical pot to judges and other attorneys.
The Kroger Law Group and Mr. Kroger are trusted by some of the largest dispensaries in Los Angeles for legal defense. He and his law firm have also represented medical marijuana collectives that were charged in federal court. In addition, he has defended clients, including some of the largest marijuana growers, doctors and edible manufacturers, in countless criminal court cases. He's been able to have property that was seized by the police returned and ensure his clients did not have to serve a prison sentence, on some occasions. The defendants who retain Mr. Kroger benefit from his years of experience as a marijuana charges attorney in Los Angeles and his rapport with judges, clerks and opposing attorneys.