Marijuana Lawyer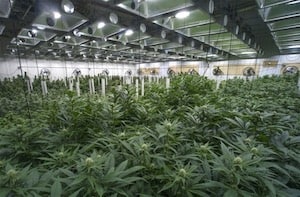 Are you a medical marijuana patient who is having legal troubles? Are you a cannabis business accused of breaking compliance laws? If you have any problems connected to marijuana, we can help. Our office has years of experience defending those in the cannabis industry and we are always up on the latest laws concerning marijuana. Contact the Law Offices of William Kroger today for a free consultation at (313)-655-5700. You need an experienced Los Angeles marijuana lawyer on your side.
Marijuana Laws
A majority of Americans support marijuana legalization. Even more support the medical use of pot as a medicine for those afflicted with terminal and chronic diseases, such as cancer, HIV/AIDS and Parkinson's Disease. States across the nation are allowing its medical use and some are considering outright legalization.
The laws are changing quickly, not only in every state but within cities as well. While some cities are friendly to storefronts, dispensaries and collectives, others actively try to shut them down, despite the prevailing opinions of the usefulness of marijuana.
Not all self-proclaimed medical marijuana lawyers have the background or keep up with the changing legal landscape surrounding it.
If you're in the medical marijuana business, you need a seasoned and experienced medical marijuana lawyer. I've been practicing for more than 14 years as a marijuana attorney, and I've seen first hand the changes surrounding the public perception, law enforcement attitude the laws surrounding cannabis.
Things are changing fast, with new laws, regulations and court decisions that affect patients, growers and dispensaries alike. My staff and I keep up with every new development and how it affects our clients.
What hasn't changed is the federal government's stance that marijuana is an illegal drug, no different than heroin or methamphetamine. Despite the growing number of states that approve of medical marijuana, federal law enforcement agencies are continuing their war on pot.
This makes retaining and consulting an experienced marijuana lawyer even more important!
But if you're someone operating in a situation where pot is still illegal, I can still help you. If you're facing possession, possession with intent to distribute or if you've been arrested or charged with growing pot, my expertise as a marijuana lawyer will ensure you're treated fairly and your rights are observed.
I will ensure you are given the best legal defense.
Contact me about your situation. Our conversation will be confidential, and I'll be able to tell you what your options are.
Our Experience
William Kroger is the foremost legal expert on marijuana law in California. While he practices all types of criminal law, marijuana crimes are what have set him apart from all other attorneys over the last decade. He has represented clients accused of use, cultivation, transportation and sales in the state and federal level on hundreds of occasions. Mr. Kroger was the only marijuana lawyer involved with the City of Los Angeles when implementing the initial interim control ordinance to regulate medical marijuana shops in 2007. Mr. Kroger also taught "Marijuana and the Law" at Oaksterdam University, an institution established in the San Francisco Bay area to educate medical marijuana growers and dispensary owners. He was also handpicked to teach a class about medical pot to judges and other attorneys. The Kroger Law Group and Mr. Kroger are trusted by some of the largest dispensaries in Los Angeles for legal defense. He and his law firm have also represented medical marijuana collectives that were charged in federal court. In addition, he has defended clients, including some of the largest marijuana growers, doctors and edible manufacturers, in countless criminal court cases. He's been able to have property that was seized by the police returned and ensure his clients did not have to serve a prison sentence, on some occasions. The defendants who retain Mr. Kroger benefit from his years of experience as a marijuana charges attorney in Los Angeles and his rapport with judges, clerks and opposing attorneys.
Contact A Los Angeles Drug Defense Lawyer
Having a knowledgeable Los Angeles marijuana lawyer on your side is crucial to getting a favorable outcome in your case. Contact the offices of William Kroger today for a free consultation at (313)-655-5700.