What If I Get Caught with Cocaine While Flying?
Plenty of people attempt to smuggle, use, or otherwise involve cocaine during air travel each year. This especially true in LA airports, like the Santa Monica Airport. However, few know just what the penalties are for being caught with illegal drugs or goods when attempting to fly. What happens if the TSA catches you with cocaine?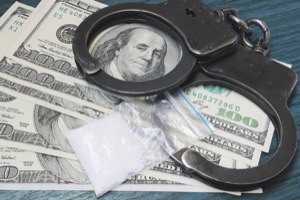 Being caught with cocaine during air travel, whether before or after you board a plane, could result in criminal charges pursuant to the California Health and Safety Code §11550, 11350, 11351, or 11352 depending on:
The amount of cocaine in your possession
Whether or not you were under the influence of cocaine
If there is determined to be intent to sell
The number of previous charges of this type on your record
In addition, you may face federal charges pursuant to21 USC §844 (Controlled Substances Act) based on the same factors listed above.
We'll discuss the exact details of the penalties and circumstances below. However, if you are currently facing charges in California for possession or trafficking of cocaine, you should contact us immediately. William Kroger is an experienced LA criminal defense attorney and, along with the rest of our team here, has a proven track record for successful defenses against drug charges of all types.
The sooner you contact us, the better your chances are for a successful defense. Call 323-655-5700 for a free consultation to discuss your case and how we can help.
Penalties of Cocaine Possession While Flying
While the TSA is primarily focused on identifying and containing any threats to air travel, they are obligated to report instances of drug possession or smuggling. Since cocaine and cocaine base are classified as a Schedule II drug under the Controlled Substances Act, TSA is obligated to inform authorities.
If the TSA, airline personnel, or any other airport authority finds cocaine on your person, they will likely inform local authorities.
Penalties for being caught with cocaine in an airport, or while flying, vary based on several factors:
Amount of cocaine: the more cocaine that is found in your possession, the more severe the penalties. Penalties include potential for both fines and jail time in varying amounts. Small personal amounts of cocaine will likely just be confiscated.
Evidence of intent to sell or distribute: if the prosecution can show that you intended to distribute the cocaine in your possession, you will face much more severe penalties. Large amounts of cocaine can be used as evidence of drug trafficking.
The number of previous convictions of this type on your record: if you have been convicted of cocaine possession before, this will greatly influence the severity of your penalties.
Additionally, if you are under the influence of cocaine at the time of being caught, you could technically face additional charges pursuant to the California Health and Safety Code §11550, which prohibits being under the influence of a controlled substance in public, though this is rare.
To see the exact penalties related to various types of cocaine possession charges while in an airport, refer to our overview on drug charges in LA.
International Flight Penalties for Cocaine
In addition to the standard penalties for possession of a Schedule II drug, being found attempting to smuggle cocaine or cocaine base either into or out of the United States can bring additional charges.
21 US Code §952 and §959 specify the illegality of attempting to import or export controlled substances. Charges involving importation or exportation of such substances, like cocaine and cocaine base, are almost always prosecuted at a federal level.
Such cases are taken very seriously, and severe penalties often follow. If you are not an U.S. citizen and are caught in such a crime, you will almost certainly face detainment and deportation proceedings among further penalties.
Cocaine Possession Charges in an Airport: How We Can Help
Whether you are facing simple possession charges or more serious cocaine trafficking charges, your life could be permanently altered by the resulting penalties.
We understand the serious effects such penalties can have on a person's life, and are here to help prepare a successful defense. William Kroger has more than two decades of experience working with drug related cases of all types and is a known and trusted LA criminal defense attorney. Our team here has a proven track record for having such charges reduced or dropped entirely.
Contact us as soon as possible at 323-655-5700 for a free consultation to discuss the details of your case. The sooner you get in touch, the sooner we can begin preparing your defense.