Selling Imitation Substances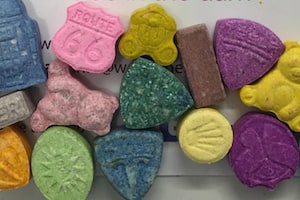 Is It a Crime to Sell Fake Drugs?
Yes, the law is very clear that selling an imitation controlled substance is a crime!
What Qualifies as an Imitation Controlled Substance?
An Imitation Controlled Substance is any substance that itself is not a controlled substance under law but based on its appearance or representation would lead a "reasonable person" to think that the imitation substance is a controlled substance.
In short, an imitation substance is one that is intended to be perceived as the real thing. It need not even have the same effect as the controlled substance it is imitating. LA criminal defense attorney William Kroger sees cases where the imitation substances themselves are filled with caffeine or are just placebos.
Is There a Difference Between Counterfeit Substances and Imitation Drugs?
Generally speaking, imitation drugs refer to drugs intended to imitate controlled substances like Methamphetamine, Cocaine, or Heroin.
On the other hand, Counterfeit drugs or substances are those that are unlawfully made in the likeness of pharmaceutical drugs with regards to their imprint, labelling, packaging, or any other identifying mark. Most commonly, it is opioids that are produced as counterfeits. Since counterfeit substances have tendency to be mass produced, punishments (especially under Federal law) tend to be much harsher.
Examples of counterfeit substances include
Fake "Lean" or prescription Cough Syrup
Fake Opioid medications like "Hydrocodone" or "OxyContin"
Common imitation drugs include
Fake MDMA or Molly
Fake Ecstasy
Fake Cocaine
Fake Mushrooms
What Does Federal Law Say About Selling Fake or Counterfeit Drugs?
Under Federal Law, it is unlawful for any person to knowingly or intentionally:
Create
Distribute
Dispense
Or possess with intent to distribute
… a counterfeit substance
What Are the Federal Penalties for Selling "Fake Drugs"?
Fine of between $100,000 and $10,000,000; OR
Not less than one year in Federal Prison; OR
Both the fine and imprisonment.
What Does California Law Say About Fake Drugs?
Under California Law, any person who:
Manufactures
Distributes;
Or possesses with an intent to distribute
…a controlled substance is guilty of a misdemeanor.
What Are the State Penalties for Selling "Fake Drugs"?
The penalties for selling imitation drugs include
Up to 6 months in County Jail; OR
A fine of $1,000; OR
Both jail time and fine
Legal Defense Strategies: Where Kroger Law Can Help
William S. Kroger is a smart, knowledgeable and experienced criminal defense attorney. He represents clients who have been charged with drug crimes related to both counterfeit substances and imitation substances.
William S. Kroger and his team of experienced criminal defense attorneys understand that if you are facing a criminal charge related to any gang association, it can deeply disrupt your life. William S. Kroger is committed to your defense. His proven track record of exceptional criminal defense in Los Angeles is your best option to defend yourself. Contact William S. Kroger Attorney at Law today at (323) 655-5700 to discuss your case. The sooner you retain Los Angeles legal counsel, the sooner he and his legal team can begin work on your case.