Smuggling Narcotics or Contraband
Understanding Smuggling Laws in the US
Smuggling Narcotics or Contraband: Penalties and Defense Strategies
Smuggling is the act of transporting prohibited goods across a border or into a building to avoid regulatory oversight, prison rules, import or export restrictions, or other forms of unwanted attention. Smuggling narcotics or weaponry is often the first assumption when people hear the word "smuggling". However, smuggling contraband, like Cuban cigars, animals, and other prohibited products, is considered smuggling under the broader smuggling laws.
Smuggling is perhaps most commonly associated with the southern U.S.-Mexico border. Here, the Mexican cartels smuggle people, narcotics, and other controlled substances across the border, leading to a spiral of crime and violence. However, smuggling can occur across any border or into prison facilities.
In this article, we will explain what the smuggling laws encompass, what the penalties are, and what you should do if you're facing a charge for smuggling narcotics or contraband.
What Are the Smuggling Laws in the US?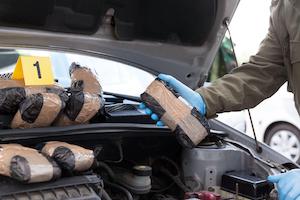 In the U.S., smuggling is a federal crime involving the transportation of goods across a national border – although state-to-state smuggling does exist, e.g., transporting Burmese Pythons to Florida. Drugs and other contraband can also be smuggled through the US mail. The most common items involved in smuggling include narcotics, Cuban cigars, weapons, plants, and animals.
Because smuggling contraband primarily involves national borders, smuggling laws are overseen and enforced by several federal agencies:
The Drug Enforcement Administration
The U.S. Coast Guard
The U.S. Border Patrol
The U.S. Customs Service
Goods can be smuggled either by concealing the item on a person or in their baggage or by moving the goods across the border without detection, e.g., in planes, boats, or trucks. Underground tunnels are used in the narcotics trade between the U.S. and Mexico.
Smuggling Narcotics and Contraband into Prison
In a correctional facility, narcotics or contraband can pose a safety risk to the inmate and prison staff alike. All prison services work to eliminate the smuggling of contraband into the system. The list of prohibited items likely includes:
Weapons
Drugs
Alcohol
Cell phones or other telecommunications devices
Other items are unauthorized by the warden.
Wardens can take a strict approach to contraband, meaning anything handed to a detained person will violate state laws. California Penal Code 4573.5 makes it a crime to bring drugs or alcohol into a jail or prison, or to possess them while in jail or prison. Smuggling drugs into correctional institutions is a felony, punishable by imprisonment in state prison for up to three years. The type of contraband determines the length of the sentence.
What are the Consequences of Violating Smuggling Laws?
The prosecution of U.S. smuggling laws is covered by 18 U.S. Code § 545, which states that a defendant should be fined or imprisoned for no more than 20 years or both. This section of the United States Code makes it a crime to smuggle goods into the country or to make false statements to customs officials to evade duties or other requirements. Under this law, smuggling crimes include:
Knowingly and willfully smuggling any merchandise that should have been declared or invoiced by customs.
Knowingly and willfully passing false or forged invoices or documents in an attempt to bring undeclared or illegal merchandise into the U.S.
Knowingly and willfully transporting any illegal merchandise across the border by any means.
As with all such felonies, the sentence and punishment given reflect the merchandise being smuggled and the quantity. For example, smuggling a cache of AK-47s is likely to result in a substantial prison sentence compared to a pack of Cuban cigars. Moreover, a smuggler's criminal history also impacts the eventual sentence.
To determine the smuggling sentence, basic point-based guidelines are used. The base point value spans 26 to 43 points, depending on the product or drug, criminal history, and if any deaths occurred due to the smuggling of narcotics or contraband.
Further points are added following specific criteria: violence in the smuggling operation equals 2 points, possession of a firearm also equals 2 points, etc.
When smuggling narcotics, the minimum prison sentence will be around ten years, alongside up to $50 million in fines.
Statute of Limitations: Smuggling Narcotics and Contraband
The state of limitation for all smuggling charges is five years, after which point, a person cannot be charged. In certain cases, a person may still be liable for conspiracy charges, meaning the statute doesn't begin to run down until after the last act associated with conspiracy.
Los Angeles Drug Smuggling Defense Lawyer
Number One Recommended Criminal Defense Attorney in Los Angeles
William Kroger is a criminal defense attorney with over 25 years of experience in representing clients in narcotic and contraband smuggling cases. He has successfully defended clients in high-profile cases involving large quantities of drugs, and has a reputation for being a tough negotiator and skilled trial attorney.
Mr. Kroger is also known for his commitment to providing personalized attention to each of his clients, working closely with them to develop the best possible defense strategy.
Smuggling drugs or other contraband charges are an extremely serious crime, carrying the potential for substantial fines and lengthy prison sentences. Speak to an experienced Los Angeles criminal defense attorney to discuss your case, identify defense strategies, and give you the best chance of avoiding conviction or minimizing your sentence.
Call William Kroger Attorney at Law at 323-655-5700 or contact us online for a free and confidential consultation.