Felony on a Background Check
How Long Does a Felony Stay on Your Record in California?
If you've been convicted of a felony, you probably know that having a felony charge or conviction can hold you back in many ways, including:
Limiting employment options
Taking away the right to vote
Keeping you from carrying a gun
In general, a felony stays on your record forever unless you do something about it. That doesn't mean it will always show up when someone checks your background. There are also some California laws to help people with felony convictions who have served their time and stayed out of trouble.
New laws are being considered every day that will reduce felonies or expunge certain convictions altogether. With changes taking place every year, it's understandable if you have questions about where you stand or if your previous felony is still on your record.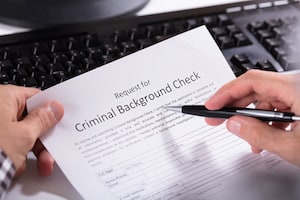 At Kroger Law Group, we follow the actions of the legislature and make sure we know when new laws are passed that will help our clients expunge or reduce their convictions. If you have a question, or if you want to get started cleaning up your record, we're here for you. Call us at 323-655-5700 or use our contact page to set up a free, confidential consultation.
What is Considered a Felony Conviction in California?
Any crime that is punishable by more than a year in prison is a felony in California. What matters is the maximum sentence that was possible for the offense, not what sentence you were given.
Different states use different definitions of felony, and sometimes California courts need to consider whether an out-of-state crime is a felony here. When that happens, California will use its own definition of a felony and not the definition used by the state of the conviction.
Can my Felony Conviction be Used Against Me When Applying for Jobs?
California is considered a friendly state for people who have been convicted of crimes. One reason is the limits we place on an employer's ability to use your criminal history against you unless it directly relates to the job.
Our Ban the Box law helps people with criminal convictions find jobs. It says employers can't ask whether you have been convicted of a felony on an application form.
Some parts of your criminal history are completely off-limits when making decisions like who to hire, fire, promote, or discipline. This includes a general ban on considering:
Arrests that do not lead to conviction;
Participation in pre- or post-trial diversion;
Convictions that have been judicially dismissed, sealed, or expunged;
Convictions that have been removed by statute;
Offenses in juvenile court;
Non-felony convictions for possession of marijuana that are two or more years old.
After an employer gives you a conditional offer of employment, they can ask about any convictions. To use your convictions against you, the employer has to consider if the conviction has a "direct and adverse relationship" with the job you have been offered.
If you are not hired because of your conviction, the employer has to tell you in writing and give you a chance to respond. The employer is obligated to consider your response. If they still do not hire you, they have to provide you with written notice of this final decision and inform you of your right to file a complaint with the California Department of Fair Employment & Housing (DFEH).
The Ban the Box law governs what information employers can ask about you about or consider in their hiring decision. If employers want to request a background check from a third party, they have to comply with additional state law and the federal Fair Credit Reporting Act. Employers have to get your written consent to run a background check on you, and they can only be given information from the past 7 years. If an employer decides not to hire you, they have to give you written notice and a copy of the information so that you can dispute it. There are similar state rules if an employer searches public records for information on you.
What can I do About my Felony Conviction?
If you have a criminal conviction that is negatively affecting your life, you may be able to change it. Misdemeanors and certain felonies can be expunged under California Law. PEN 1203.4. This means that certain convictions can be wiped away from your record and your rights can be restored.
Some felonies may be eligible for a reduction to a misdemeanor under Prop 47. These include:
Possession of hashish.
Simple possession of methamphetamine.
Certain theft, fraud, and forgery convictions for $950 or less.
Second degree burglary for $950 or less.
Receiving stolen property with a value of $950 or less.
Contact the Kroger Law Group if you have a question or if you want to seek an expungement or reduction for your previous convictions.
Clean up Your Record and Give Yourself the Best Chance for Success. Contact a California Expungement and Reduction Attorney Today.
If you have a felony charge or conviction that is eligible for expungement or reduction, you should start the process as soon as possible. Prop 47 reductions are only available until November 2, 2022, unless that time period is extended. New laws pass every day. Make sure you take advantage of the rights you have now in case the legislature alters your ability to clean your record later.
At Kroger Law Group, we can help you figure out if you are eligible for an expungement or a reduction. Set up a free, confidential consultation to find out what your options are. Call us today at 323-655-5700 or go to our contact page to send us a message right now.