Environmental Crimes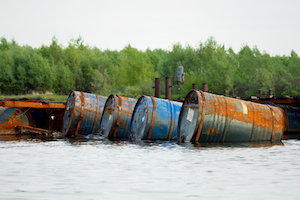 The environment is an important entity to protect, and thus there are many laws dedicated to ensuring that our air, water and wildlife are not being polluted, contaminated or in any way corrupted. An environmental crime is any crime that has a negative effect on the environment: soil, water, air, wildlife. We do our best to keep the planet stable by ensuring that toxic chemicals are not released into rivers, that uncontrolled logging doesn't lead to deforestation of the Amazon, and that wild animal trafficking doesn't put an end to the survival of many endangered species. Any person or corporation that commits crimes against the environment will face very serious consequences if caught.
California has some of the strictest environmental regulations in all of the United States. The Golden State expects companies to comply with many regulations in order to ensure environmental safety. Unfortunately, sometimes following the protocol can be expensive and that's why companies might decide to cut corners in order to save money, which is how a lot of environmental crimes come about. If you or your firm have been charged with committing an environmental crime, a lot is on the line. Contact the Law Offices of William Kroger at (323) 655-5700 to schedule a free consultation and get started on building your defense.
California Laws Regarding Environmental Crimes
Environmental issues have taken precedent for lawmakers who have passed statues such as the Clean Water Act, the Clean Air Act, the Resource Conservation and Recover Act and the Toxic and Substances Control Act.
There is a wide variety of crimes when it comes to the environment. Some of the more common environmental crimes are:
Illegal disposal of hazardous waste
Illegal wildlife trade
Groundwater contamination
Toxic dumping
Oil spills
Chemical spills
Asbestos violations
Environmental crimes that lead to someone's death can end in manslaughter charges.
California Environmental Crimes Penalties
Environmental crimes have become a hot button issue in the recent years, and due to that the penalties have become harsher. If you are a company or a business owner, you stand to lose your business. The penalties for environmental crimes depend on the specific crime committed, your criminal history, as well as other factors.
For example, the penalty for illegal dumping can result in up to 6 months in jail and a fine of up to $10,000. You will also be held accountable for the amount of money it takes for authorities to clean up after you. But more often than not the punishment involves a long prison sentence as well as exuberant fines.
The government can hold the CEO, managers and other employees personally liable, even if they did not participate in the violation, in order to send a message that the people responsible for the company have to be aware of how to ensure environmental disasters do not happen.
Environmental crimes can take place on a small scale or a very large scale, such as the Deepwater Horizon oil spill, considered to be the largest oil spill to ever occur on U.S. waters. Deepwater Horizon was a drilling rig owned by Transocean and leased to BP at the time of the disaster. In 2010 the rig exploded, killing 11 men and causing an oil spill that went on for three months. In the end, the accident released about 4.9 million barrels of crude oil into the ocean. The accident had a devastating impact on the marine life, damaging the ocean floor and killing tens of thousands of fish, over 82,000 birds, 25,900 marine mammals and many others. In 2013, Transocean agreed to pay $1.4 billion for violating the Clean Water Act. The judge ruled that while Transocean's actions were negligent, BP's actions were reckless. The cleanup of the disaster, along with other charges and penalties cost BP over $65 billion.
Contact A Los Angeles Criminal Defense Attorney
There are many different ways in which you might have found yourself in the situation of being accused of an environmental crime. The best thing to do next is to hire a criminal defense attorney right away. You are fighting for your freedom, your reputation, and your career. A conviction for an environmental crime charge can not only result in large fines and a lengthy prison sentence, but it can also do irreparable damage to a company's reputation.
Government investigations can be long and intrusive. At Kroger Law we understand the importance of trying to get your case resolved as quickly as possible. We work tirelessly to develop the best strategy for your defense. Our attorneys understand the complexities of environmental issues and the impact this type of charge can have on your business. We are committed to giving you a great defense, and fighting our hardest on your behalf to ensure a positive result. Contact the Law Offices of William Kroger for a free consultation at 323-655-5700.