Dog Fighting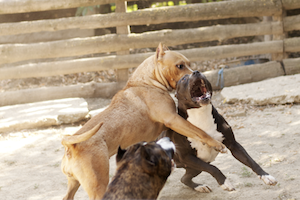 Dogfighting is a brutal and illegal sport in which dogs are trained to be combative and fight each other, typically for the purpose of gambling and entertainment. Dogfighting is a felony in California, and anyone charged with the crime is going to face harsh penalties. If you have been arrested on the charges of dogfighting or animal cruelty contact the Law Offices of William Kroger at (323) 655-5700 to schedule a free consultation.
California Laws Regarding Dogfighting
The state of California is known for having strong laws in place in order to protect animals, this includes tough laws to crack down on the crime of dogfighting. That is why dogfighting is a separate crime from animal cruelty.
According to California Penal Code 597.5, any of the following are subject to criminal prosecution:
Owning, possessing, keeping, or training any dog, with the intent that he will engage in fighting another dog for sport.
Making a dog fight with another dog, resulting in injury to one or both dogs, for amusement or gain.
Permitting for either of these acts to be done on your premises, or aiding and abetting.
Being a spectator or knowingly present at any place where preparations are being made for a dogfight.
There are multiple ways in which someone can violate California Penal Code 597.5 without even owning dogs with the purpose to have them fight. For example, if you have puppies that you are intending to give to a trainer who is going to teach them to fight, and your plan is to eventually sell them to people who own dogfighting rings, you are guilty of violating California's dogfighting laws.
Another frequent way in which people get caught up in this crime is by renting space to those who host dogfighting spectacles. If you knowingly rent a property that is used for the purpose of dog fights, you are violating California's dogfighting laws.
You also do not need to own a large dogfighting operation to be charged under California's dogfighting laws, but your motivation must be to get amusement or gain. For example, if someone lets an aggressive dog loose in your presence, and you let your dog off the leash in order to protect yourself, you can argue that it was self-defense. You were not getting any type of gain or amusement from the situation, you were simply trying to stay safe and have your dog protect you against danger.
Another way in which you can find yourself being charged under California's dogfighting law is by aiding and abetting. So even if you are not directly involved in the dogfighting operation, if you have knowledge of it and in any way help or assist those who run it, you may be charged. An example of this would be if you have a medical license or knowledge and your friend, who runs a dogfighting ring, consults you on how to patch up the dogs' injuries so that they can fight longer, and pays you for your advice. In this circumstance you could be guilty of aiding and abetting.
California Dogfighting Penalties
Because California has such tough laws when it comes to animal rights, the simple act of watching a dogfight—being a spectator—can result in a misdemeanor and land you in county jail for up to a year. And if you're training dogs to be in dogfights or organizing dogfights, you are risking being charged with a felony and face up to three years in prison and $50,000 in fines.
The Michael Vick Dogfighting Case
Atlanta Falcons quarterback Michael Vick is probably the most prominent poster child for dogfighting rings. Vick, along with his friends, formed and financed Bad Newz Kennels, a Virginia farm that was the site of a notorious dogfighting operation where Vick's pit bulls were trained to injure and kill other dogs in fights for the amusement of spectators and for the purpose of gambling. During their raid on the property authorities seized over seventy dogs. Because Vick's operation crossed state lines, he ended up being charged with a federal crime. The quarterback, who at one time was the NFL's highest paid player, was sentenced to 23 months in federal prison for being the ringleader of a dogfighting enterprise.
Defenses Against Dogfighting Charges
Many people who are charged with dogfighting are shocked at how serious of a crime it is. They don't realize that because animal rights are so strong in California law enforcement have a lot of eyes watching them when it comes to cases of animal abuse. Therefore authorities tend to go after anyone they suspect might be involved in dog fighting operations quite aggressively. However, there are instances where you might be wrongly charged.
Some common defenses to dog fighting accusations are:
You were not training your dog for dogfighting, but for protection. Perhaps someone saw you training your dog and assumed the worst, when in actuality you were just training him to be a guard dog and to protect your home.
Another common reason for arrest is simple association to a place that hosted or trained dogs for dog fights. Maybe you lived with someone who was training their dog to be in dog fights but you didn't have personal knowledge of it or you didn't realize what was happening.
If you're being charged as the owner of a dogfighting ring prosecutors must prove that you did in fact own and train the dogs for the specific purpose of a dogfighting exhibition. This can be a tough feat for authorities because many dogs in such operations are not licensed. If you are charged as a spectator, prosecutors must prove that you were knowingly participating. If you were an accidental witness, it would be hard to prove criminal intent and charge you with a crime.
Contact a Los Angeles Criminal Defense Attorney
If you or someone you love have been accused of dogfighting charges, or being a spectator of a dogfighting exhibition, you need to contact a criminal defense attorney. Our attorneys have experience and knowledge when it comes to defending dogfighting charges, and we will work tirelessly to negotiate the best type of outcome for you. Contact the Law Offices of William Kroger for a free consultation at 323-655-5700.