Carrying a Concealed Firearm Without a Permit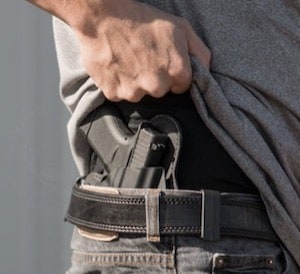 Although several states do have laws allowing for the concealed carrying of a firearm, pursuant to CA PC 25400, carrying a concealed firearm in your vehicle or on your person is a crime in California.
Additionally, many gun advocates point towards the second amendment to justify the ability to carry a concealed firearm. However, in 2016 the Ninth Circuit Court of Appeals ruled that the second amendment's "right to bear arms" does not protect the right to possess a concealed firearm.
As such, states in the ninth circuit (California, Alaska, Arizona, Hawaii, Idaho, Montana, Nevada, Oregon, & Washington) that do allow concealed carry permits ––do so on their own authority, not any constitutional amendments.
Firearm defense attorney, William Kroger is equipped with the experience and knowledge to defend you from any firearms charge. Call 323-655-5700 for a free consultation today.
What are the Elements of a Concealed Firearm Charge?
If any of the following acts occur, a person is guilty of carrying a concealed firearm under CA PC 25400

Carrying in a vehicle that is under their control or direction a pistol, revolver, or other firearm that could be concealed on a person.
Carries a firearm capable of being concealed in person.
Causes a firearm that could be concealed in person to be carried in any vehicle

Additionally, the prosecution must prove the following:

You knew about the presence of the concealed gun, and
The firearm was substantially concealed.

NOTE: CA does not have an "open-carry" exception for firearms. It is illegal to carry an unloaded gun on your person in a public place.
What if I Forget That I Have a Firearm on My Person?
Proving awareness of the loaded gun is necessary for conviction of this crime. In other words, if the prosecution cannot prove that you were aware of the firearm's presence, you cannot be found guilty.
It could certainly be the case that someone else put it into your belongings without your permission or awareness. Firearm defense attorney, William Kroger, will work with you personally to assess possible defenses to your firearm charge.
What are the Penalties for a Concealed Firearm Charge?
If additionally convicted of a crime against a person, their property, or of a drug violation;
Imprisonment in county jail of up to 1 year: OR
A fine of up $1,000; OR
Both the fine and imprisonment.
If the firearm is loaded, or is unloaded but is concealed alongside its ammunition AND the person is not the registered owner of the firearm
Imprisonment in county jail of up to 1 year: OR
A fine of up $1,000; OR
Both the fine and imprisonment.
Legal Defense Strategies: How We can Help
William S. Kroger is a smart, knowledgeable and experienced criminal defense attorney. He represents clients who have been charged with both weapons and drug charges.
William S. Kroger and his team of experienced criminal defense attorneys understand that if you are facing a criminal charge related to any type of weapon, it can deeply disrupt your life. William S. Kroger is committed to your defense. His proven track record of exceptional criminal defense is your best option to defend yourself. Contact William S. Kroger Attorney at Law today at 323-655-5700 to discuss your case. The sooner you retain legal counsel, the sooner he and his legal team can prepare a comprehensive defensive strategy for you.