Possessing While Armed
Possessing Controlled Substance While Armed in California
Elements of the Crime
Possession of a Controlled Substance.
WHILE, armed with a loaded, operable firearm.
What is a Controlled Substance?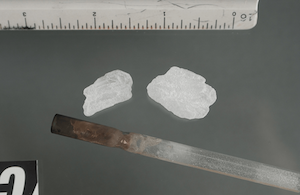 Photo Courtesy of DEA: Methamphetamine and Pipe
Under CA H&S 1, the definition of a controlled substance is much more limited than in other parts of the law.
A controlled substance is any substance containing:

Cocaine Base
Cocaine
Heroin
Methamphetamine
PCP (Phencyclidine): Liquid or Crystal
A hand-rolled cigarette treated with PCP
OR any analog substance to the drugs above pursuant to the Controlled Substance Analog Act

Must have a similar effect on the user
AND a similar chemical composition
What Does it Mean to be Armed With a Loaded/Operable Firearm?
Having a firearm available for immediate offensive use.
Having a firearm available for immediate defensive use.
You knew the firearm was available for offensive or defensive use.
The firearm had a loaded bullet inside.
What is Possession?
There are three elements to possession of an illegal substance

Knowledge of possession.
Knowledge that the substance was illegal.
The amount of substance possessed must be "usable"
Ability to control possession.
What are the Penalties?
Felony punishable by state imprisonment for 2, 3, or 4 years
A fine of $10,000
Both Fine and Imprisonment.
*Dependent on the previous existence of a criminal record, and the crimes on that record*
Immigration Implications
According to the United States Citizen and Immigration Services, An asylum or refugee applicant who has been convicted of an aggravated felony is permanently barred from establishing the "Good Moral Character" needed for naturalization.
Is "Possessing Controlled Substance While Armed" an aggravated felony?

In 1996, Congress expanded the definition of an aggravated felony in the immigration context to include "Crimes of Violence" punishable by imprisonment of at least one year.
Pursuant to 18 U.S. Code § 16, a "Crime of Violence" is a felony that by its nature, involves a substantial risk that physical force against the person or property of another may be used in the course of a crime.
Additionally, in Lopez v. Gonzalez, the Supreme court established that an "aggravated felony". Includes any FELONY that falls within the Controlled Substance Act.

In other words, mere possession (usually punishable by misdemeanor) does not constitute an aggravated felony. Possession while armed, however, does.
The court also held that an aggravated felony can apply to violent crimes within both State & Federal law.
Legal Defense Strategies: How We can Help
4th Amendment: "Stop and Frisk"
Often times, searches of an individual's body by a police officer may be a violation of the 4th amendment which protects against "unreasonable searches and seizures". In Terry v. Ohio, the Supreme Court laid out a bar of suspicion which governs the ability of police officers to search you in public.
If Police officers have a reasonable suspicion that a person has committed, is committing, or is about to commit a crime.
And has a reasonable belief that that person may be "armed and presently dangerous", that search does NOT violate the 4th