Assisted Suicide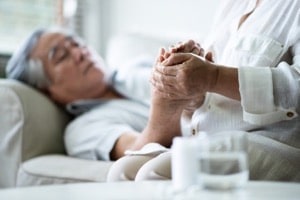 In California, it is a felony to help or encourage someone to commit suicide, even if they are already near death due to an illness. The only exception to this rule is physician-assisted suicide through the End of Life Option Act—a law that allows terminally ill patients to receive medication to end their life, under very specific conditions. Otherwise, helping someone out during this difficult time can mean a prison sentence and harsh fines for the person trying to help. The law is clear that a friend or a family member cannot help someone take their life, no matter the circumstances. If you're being accused of helping someone commit suicide, give the Law Offices of William Kroger a call at (323) 655-5700.
Laws Regarding Assisted Suicide in California
As stated in Penal Code 401 assisting suicide is when, "Any person deliberately aids, advises, or encourages another to commit suicide." This charge is a felony, and if you are convicted you are facing three years in prison and a fine of up to $10,000.
Let's say Tom is your best friend, and he is fighting an incurable and advanced form of cancer that leaves him in great pain every single day of his life. You feel terrible watching your friend suffer and not being able to do anything about it. Tom is an older man and does not want to fight through the pain any longer, when he knows there's no cure available and that he is inevitably going to pass away anyway. Tom knows you have a gun and asks if he could borrow it—his intent of using the gun to end his life with it, is perfectly clear to you. You bring it over and leave it at his place, and he ends up taking his life with it. You are now in violation of Penal Code 401, by aiding Tom with his suicide.
If on the other hand Tom is too scared to pull the trigger and asks that you to do it for him, you will not be charged with assisting a suicide, but with committing a murder under Penal Code 187.
Those who are suffering from terminal illnesses have the option to use physician-assisted suicide. At the moment California has the End of Life Option Act, although it is being legally challenged by its opponents. If they qualify, a physician will prescribe them medication that they can take to end their life. In order to qualify for the aid-in-dying drugs, a person must be:
Over the age of 18.
A California resident.
Have an incurable diagnosis that will result in death within six months.
Be competent enough to make their own medical decisions.
Be able to self-administer the drug.
Legal Defenses for Assisted Suicide Charges
Cases of assisted suicide are devastating, and often they involve extremely young people who don't understand that it is illegal to help a friend commit suicide.
In order for a prosecutor to prove this crime they have to show that someone tried to or committed suicide, and that you deliberately aided, advised or encouraged them. A common defense to these charges is to show that there simply isn't enough evidence to prove that you are guilty of assisting in a suicide.
A good criminal defense attorney is imperative in order to protect you from these charges. Oftentimes we can show that you didn't deliberately assist the suicide.
Contact a Los Angeles Assisted Suicide Defense Lawyer
The morality of helping someone commit suicide has always been a major topic of debate. Seeing someone you love in a great deal of pain can be a harrowing experience, and may push you to help them end their life in order to end their suffering. However, in California, this is a criminal act. If you've been arrested in Los Angeles for charges relating to assisting a suicide, we want to help. Call our office at (323) 655-5700 to schedule a free consultation.