Traffic Attorney Los Angeles - Ticket Lawyer LA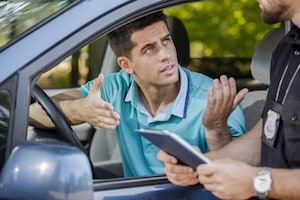 You might think that hiring a lawyer to fight a simple traffic ticket is overkill, but oftentimes we see that drivers who choose to represent themselves in court end up with some very disastrous results. A traffic ticket lawyer can help you fight your pricy ticket and prevent you from getting points on your driving record. Oftentimes we can also help you get the case dismissed and the ticket thrown out. If you received a traffic ticket you want to contest, give the Law Offices of William Kroger a call at (323) 435-6045.
Los Angeles Traffic Tickets
Traffic tickets in Los Angels are far from cheap. If you think the amount written on the ticket seems reasonable and it might be easier to just pay it, don't forget that California law adds a 20 percent surcharge and other additional fees to that base amount. On top of that, you will also be dealing with an increase to your car insurance. Life in Los Angeles is already expensive enough as it is. If you receive a traffic citation, contact our skilled traffic ticket lawyers at Kroger Law Group. We can help you fight your ticket and prevent you from getting points on your driving record.
Fines For A Traffic Ticket In California
Fines for a traffic ticket depend on the offense, as well as your record and your age. After you receive a ticket you can plead guilty, or no contest, and pay it. This means that you also have to pay for the costs of traffic school. You are also risking adding points to your driving record-depending on the ticket.
But if you feel like the ticket was unjust you can plead not guilty and fight it with the help of a traffic ticket attorney. At Kroger Law Group we get tickets dismissed everyday. Most people don't have the time to take time off work and deal with fighting a traffic ticket, which is why the state of California gets such a high revenue from traffic citations. But with us you don't have to worry about that, as we'll do all the work for you while you focus on more important things.
The Type Of Tickets We Handle
We handle every type of traffic ticket including:
Speeding tickets
Red light tickets
Stop sign tickets
Illegal turn tickets
Lane violation tickets
School bus violation tickets
Improper signaling tickets
One way violation tickets
Unsafe passing violation tickets
Cell Phone/Texting tickets
Suspended License tickets
Reckless driving tickets
All Fix-it tickets
And every other moving violation
Contest Your Traffic Ticket With An Experienced Los Angeles Traffic Ticket Attorney
Did you know that you don't have to pay your traffic ticket? You have every right to contest it. Even the safest drivers can find themselves in a situation of being pulled over by the police and given a traffic citation. If you received a traffic ticket and you don't want to pay it or suffer points being added to your record, give our experienced traffic ticket lawyers a call at (323) 435-6045.
We get tickets dismissed or reduced every single day. Nobody wants the stress of fighting a ticket on their own, which requires them to lose money by taking time off work to go to court. At Kroger Law Group we understand that a small traffic ticket can impact your life in many negative ways and we fight hard to not let that happen. If you received a traffic ticket or any type of traffic citation in Los Angeles, call the Law Offices of William Kroger at (323) 435-6045 for a free consultation.