LA Traffic Warrants and The Law
What a Traffic Warrant in LA Entails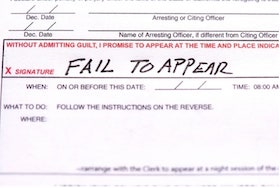 When you receive a traffic warrant in Los Angeles County it's an offense that falls in the realm of a misdemeanor. It's typically for a minor infraction, however, this minor infraction can escalate to costly expenses if it isn't handled properly. If an individual doesn't pay the fine associated with the infraction or fails to show up at a given court date, circumstances can escalate and lead to fines, a bench warrant for the arrest of the offender, and more.
The offense normally comes in two different categories:
Misdemeanor- If a traffic citation is issued and is marked with a letter "m" it has been marked a misdemeanor and therefore has more serious consequences. These citations come with the possibility of jail time, in addition to fines. Examples of when this kind of citation would be issued would be:

Driving under the influence of drugs or alcohol
Driving on a suspended license
Reckless driving
If a court date is issued in connection with a misdemeanor and the offender doesn't appear, this can lead to the issuance of a bench warrant, which will inevitably lead to an arrest.
Infraction- An infraction citation is a low-level offense where an offender is found in violation of the law in a manner that is only punishing by a fine. These are lower risk offenses such as:

Exceeding the speed limit
Driving on an expired registration
Failure to stop at a red light
Evasion of transit fare
The largest impact of any traffic citation is the accumulation of points. Once you accumulate a specific number of points over the course of a set time your license can be suspended. Points can be removed from a license by attending court and exploring options to make that happen.
Penal Code Associated with LA Traffic Warrants
The penal code associated with LA traffic warrants is Penal Code 166 and 978.5 PC. These penal codes serve as a reference to various procedures and documentation that allow defense counsel to develop and collect information to establish an effective case.
Consequences of a Traffic Warrant in LA
Briefly mentioned above, the consequences of a traffic warrant in Los Angeles county fall in line with the offense committed. If a misdemeanor has taken place then there is the possibility for harsher consequences, which is all the more reason to see proper representation to dispute that accused charges.
In the event that an individual has difficulty paying the associated charges, it's still very much encouraged to not miss a court date that has been assigned. If an individual can't make a payment there are options that a judge will consider such as:
The Option of Payment Plans- There are options that can keep the cost of the offense spread out and allow the opportunity to make the payments to be more feasible. Additionally, to avoid insurance inflation due to a traffic violation, there is the option to attend traffic school to remove points from the license and to avoid license suspension in some cases.
Community Service- In some cases, the offender won't be able to pay for the fine that is involved with the offense. By attending the court date this can be discussed with the judge and in some circumstances, the judge will arrange for community service in place of having to pay the fine.
Situations of Special Circumstances- There are times that the failure to appear in court is on account of circumstances beyond our control. Depending on the severity of the circumstance a judge can dismiss fines, as well as a number of other things. Effective representation can help highlight what approaches are available when it comes to this approach.
Seek Out an Experienced Los Angeles Defense Attorney
Traffic citations, while in theory may seem small, can escalate into very problematic situations. The reliance on being able to get from point a to point b is a convenience that is often overlooked until it's taken away. Depending on the citation involved with your traffic error seeking out an effective council is paramount to protect these rights. The right defense attorney can help identify the key points to state your case, and minimize your penalty, if not have it dismissed entirely.
William Kroger is a defense attorney that has 20 years of experience to help identify the best approach available given your circumstances.
William Kroger will help keep control in your hands. Please take a moment to contact his office at (323) 655-5700 or online by clicking here.
Initial consultations are free of charge.