Suspended or Revoked Drivers Licenses
California law gives judges the right to suspend or revoke your license if you are convicted of certain violations or crimes. If you have been arrested or charged with a crime, you may be at risk of losing your license and not even know it.
Having your driver's license suspended or revoked can be life altering, especially in the Los Angeles area. Some places are difficult or impossible to get to without a vehicle. Relying on friends to drive you or paying for Uber and Lyft rides is more than an inconvenience. For some people, not having a license means you will lose your job. You may not be able to get to your evening classes on time. Your mom may not be able to get to her doctor's appointments if you aren't able to drive her.
Don't Fight Your Charges Alone. Contact Kroger Law Group for a Free Consultation Today.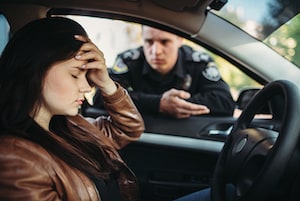 If you have been arrested or charged with a crime, you owe it to yourself and your family to contact a criminal defense attorney today. The Kroger Law Group is ready to receive your message 24/7. Call 323-655-5700 or use our contact page to set up a free, confidential consultation. Our attorneys will be able to let you know if you are at risk of losing your license, and we can tell you what you can expect when we work together on your case.
When can a California Court Suspend or Revoke my License?
Your license can be suspended for 30 days to up to six months for many offenses in the California Vehicle Code. New laws are passed all the time, and some old laws are no longer followed, so you should talk to an attorney for your particular case to see if you are at risk. Some common reasons your license could be suspended are:
You may think that driving privileges can only be lost if you are convicted of crimes that involve a vehicle. Unfortunately, even being convicted for unauthorized street art can cause you to lose your license. VEN 13202.6. California law allows judges to take away someone's license for up to two years after a criminal mischief or vandalism conviction. Vandalism covers acts like tagging a wall, spray painting a stop sign, using etching cream on a sidewalk, and scratching a message on a park bench. P.C. 594.
Can a Court Take Away my Child's Right to Apply for a Driver's Permit?
Yes. Any child, young adult, or college student should know that laws are allowed to discriminate against younger age groups if they have a good enough reason. Because young people have less experience driving and because driving is a dangerous activity, the government has the power to take away a minor's right to drive even when an adult would not face the same punishment. Courts can even take away a kid's ability to get a license before he is old enough to drive.
If you are a minor caught with a handgun, your driving privileges may be suspended for up to five years. VEH 13202.4. Kids between 13 and 21 years old can lose their eligibility to drive for up to a year if involved in certain drug or alcohol offenses. VEH 13202.5.
You may be wondering why a child of 13 would care about losing the privilege of driving since it will be years before they can obtain a license. If a judge takes away a juvenile's driving eligibility, that time may not start to run until the child is old enough to apply for a license. So, if your 13-year-old son commits a misdemeanor like removing a "No Trespassing" sign, a conviction can be used against him a year and a half later to keep him from getting his license with the rest of his classmates. A dedicated criminal defense attorney can petition the court to let your child get his license on time. This possibility may give your child another good reason to stay out of trouble, since a court may remove or shorten the driving penalty if your child is not convicted of another act of vandalism in the year following the first conviction. VEH 13202.6.
How do You Avoid Losing Your License so That You can go to Your Job, School, or Doctor's Visits?
An experienced criminal defense attorney knows how to work with the prosecutor and show the judge that you have a compelling reason to keep your driver's license. For certain violations, the law contains written instructions that make the court consider if suspending or revoking a person's driver's license is an undue hardship. Some reasons why you may be allowed to keep your license are:
Your job requires you to have a valid license;
You need a license to drive your children to school;
Your family relies on you to bring them to doctors' appointments
The judge in your case has the last word on whether your hardship is strong enough to warrant keeping your license. Even when the statute doesn't talk about hardships, you have a right to let the judge know how losing your license will affect you and your family.
Your case may not have to reach the judge for you to get the result you want. Some of the best results come from convincing the prosecutor to act before the case ever sees a courtroom. Every case is different. That's why a great criminal defense attorney will work with you to:
Explore possible defenses to defeat the state's case;
Find witnesses and evidence that dispute the government's story;
Negotiate with the prosecutor to avoid a time-consuming and unpredictable trial;
Develop a sentencing strategy that may lessen the penalty if you are convicted;
Explore if your unique circumstances make the law or punishment in your case unfair or Unconstitutional.
At the Kroger Law Group, we use these strategies and more in every case. Let us fight for you to keep your driver's license.
Act now Before it's too Late. The Best Chance of Keeping Your License is Before any Decisions are Made in Your Case.
Court dates arrive quickly, and you want to make sure you have the best representation in Los Angeles when you are facing suspension or revocation of a driver's license. You don't have to decide who to hire based on one webpage. Set up a free, confidential consultation with William Kroger and the Kroger Law Group so you can see how we will fight for you. Call us today at 323-655-5700 or go to our contact page to send us a message right now.