Registering as a Sex Offender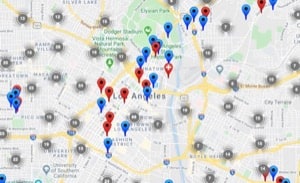 In California, sex offenders—those who have been convicted of a sex crime such as rape or sodomy—are required to register with authorities in their city once a year to state where they are residing. This is done with the intent of giving police the necessary information to quickly locate all known sex offenders in the area, in the event of a crime. It's also done so that the public is aware of where sex offenders live in their neighborhood. For obvious reasons, many who have been charged with a sex crime and are now required to register, don't want to do it. For one, it can be dangerous for them as certain members of the public may take it upon themselves to be vigilantes and assault them as a punishment for their crime. And while the apprehension to register as a sex offender is understandable, failing to do so is a crime, and if convicted you may be facing prison time. If you're being accused of failing to register as a sex offender, give the Law Offices of William Kroger a call at (323) 655-5700.
What is Megan's Law?
Megan's Law is just another name for a sex offender registry that makes sexual offender information available to the public. It is named after Megan Kanka, a 7 year-old girl who was raped and murdered by a sex offender who resided in her neighborhood. Each state has its own version of Megan's Law, but the information given is usually the same. The authorities collect the offender's name, address, picture and their crime. This information is then made available to the public via each state's Megan's Law site, and with a click of a button they have the access to see what sex offenders live nearby.
In California, Megan's Law provides the offender's picture, name, known aliases, physical description (ethnicity, height, weight, eye color, etc.), a description of their crime and the year for their last conviction, the score for their risk assessment (meaning the likelihood of them committing a new crime), their home address, and any scars, identifying marks or tattoos they may possess.
A common example of when this tool is used is when a family with a child is deciding on where to buy a house. Being able to see which areas contain offenders who have been charged with a sex crime against a child can be a deciding factor.
Sex offenders are required to register with authorities once every year, or whenever they move. This is intended to give authorities up to date information on where to look for known sex offenders, as well as give the public a resource on where sex offenders live.
Once you register as a sex offender, you then have to renew your registration once a year or every time you move to a new address. If you are homeless, you must additionally register every 30 days.
Failure to Register as a Sex Offender
Penal Code 290 makes it a crime for a sex offender to not register with local authorities. If you don't register you are facing harsh penalties. The severity of the penalties depends on whether your original offense was a felony or a misdemeanor.
If the original crime was a misdemeanor, than failure to register is a misdemeanor punishable with up to 1 year of jail time, and a maximum fine of $1,000.
If the original crime was a felony, than failure to register is a felony punishable with up to 3 years of state prison, and a maximum fine of $10,000.
In order to charge you with failure to register, the prosecution has to prove that you were convicted of a sex crime where registration was required, you knew that you had to register, and you willfully failed to register or update your registration.
Three-Tier Registration
California Senate Bill 384 has made it so that most sex offenders no longer have to register for a lifetime.
Tier one is for those with the lowest misdemeanor sex offenses, and requires at least 10 years of registration.
Tier two is for mid-level offenders and requires at least 20 years of registration.
Tier three is for serious felonies such as sex crimes against children, and requires a lifetime registration.
Legal Defenses to the Charge of Failure to Register
There is a variety of defenses available when facing this charge. For example, you might not have known that you had a duty to register. Maybe your registration got lost in the mail. Or perhaps you were hospitalized during that period and unable to register. Whatever the case, we can build a strong defense and get your charges reduced or dismissed.
Contact a Los Angeles Criminal Defense Lawyer
Having to renew your registration as a sex offender once a year can be challenging, especially if you're going through difficult life circumstances or have experienced unpleasant encounters due to having previously disclosed your address. Maybe you feel like your conviction was unfair, or that it was long ago and you've since changed and shouldn't have to register any longer. Whatever the reason, we understand the nature of this difficult situation you're in and want to help. If you have been charged in Los Angeles for failing to register as a sex offender, we can help you fight your charges or even get them dismissed. Call our office at (323) 655-5700 to schedule a free consultation today.