Incest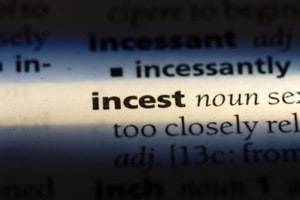 Under California law incest is considered a felony sex crime, and if convicted you may face prison time and will be required to register as a sex offender. Not only is incest not legal in the state of California, it is also prohibited on various different levels in every state in the United States. Many are unaware of the severe consequences relating to an incest conviction, such as having to register as a sex offender. If you've being accused of incest, you need the help of an experienced criminal defense attorney. Give the Law Offices of William Kroger a call at (323) 655-5700.
California Laws Regarding Incest
California Penal Code 285 defines incest as having a sexual relationship or marrying a blood relative. Relatives are defined as parents and children, siblings, half-siblings, grandparents and grandchildren, great-grandparents and great-grandchildren, uncles and aunts and nephews and nieces.
With society continually becoming more and more progressive, some have wondered about why laws against incest are still so strict. Aside from the "ick" factor and the subject being taboo in practically every culture and society, as long as two people are of age, why should it be illegal for them to have a relationship? One of the main reasons for incest being illegal is that it produces a very high chance of genetic birth defects in children, and causes harm to family dynamics. In other words, if a brother and sister or mother and son are having a sexual relationship, it's almost impossible that such a relationship would not negatively impact a healthy family structure.
Penalties for Incest in California
Incest is a felony crime in California. A conviction carries the following penalties:
Up to three years in prison
A fine of up to $10,000
Having to register as a sex offender
The severity of the punishment depends on the person's past criminal history, whether the act was consensual, whether both parties were adults, as well as how close the blood relation was. Engaging in an act of incest where one party is underage will result in far more severe penalties as well as other charges.
In order to be convicted of incest, the prosecution has to prove that you had sexual intercourse or married a close blood relative, and that you knew about your blood relation at the time that the act was committed. You can't be convicted simply because you're living together and people have their suspicions about your relationship. Usually incest is revealed when there is a pregnancy and the child turns out to be a product of relatives, because that is definitive proof that a sexual act took place between the two.
Legal Defenses for Incest Charges
It is possible to successfully defend yourself against the charge of incest. For example, maybe the accusations against you were false, and you were not engaging in incest and did not have a sexual relationship with a blood relative. Or maybe you weren't aware of your blood relation to your partner. For example, you might have met your half-sibling as an adult without ever knowing that you were related, in which case you can't be charged with committing incest. Or perhaps you did not consent to the sexual act, but were coerced or forced into it, which is the case with many instances of incest and in which case you would not be guilty.
There is also a controversial theory that can be helpful to your defense, known as GSA syndrome, although behavioral therapists have disputing opinions on this concept. GSA, or Genetic Sexual Attraction, is a phenomenon that takes places when two relatives who were typically separated at birth are reunited as adults, such as in the case of adoption. For example a brother and sister separated at birth, who reunite later in life as adults. Some argue that the lack of growing up together and then meeting someone who is familiar to us due to having the same genetics can lead to an attraction that manifests in a sexual relationship between the two relatives. Incest very rarely happens between people who grow up together in the same household because living in close proximity as children desensitizes people from developing a sexual attraction later on—an evolutionary trait thought to prevent inbreeding.
It's important to keep in mind that consent does not matter in an incest charge. You can still be charged with the crime even if both people consented to the sexual act or the marriage. Whatever the details of your particular case are, a skilled sex crime attorney can help you find the most viable defense.
Contact a Los Angeles Criminal Defense Lawyer
If you've been charged with the crime of incest, don't wait to call an attorney. You may be thinking that it's not a serious crime and that you're allowed to be with whoever you want as an adult, but keep in mind that the law is not lenient on incestuous relationships, especially those that produce offspring. If your relationship produces kids, they have a high chance of being taken away from you. And a conviction for this crime carries serious consequences that may affect your job, your family, and even your freedom. That's why you need someone with experience who can protect your rights and keep you from a lifetime of being on the sex offender's registry. Call our office today at (323) 655-5700 to schedule a free consultation.