Does Reducing a Felony to a Misdemeanor Allow My Gun Rights to Be Reinstated?
Being charged with a felony in West Hollywood, or anywhere in Los Angeles, changes your life in more ways than one. A consequence of being considered a felon is the loss of your right to purchase, own, or otherwise have possession of a firearm—not just in LA, but nationwide. Losing your right to own guns due to a felony is a major punishment, so is there any way to have your rights reinstated?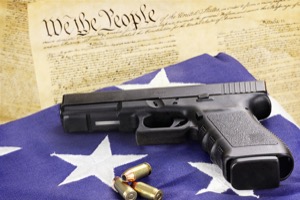 Being found in possession of a firearm as a felon in West Hollywood carries serious charges, but there may be options for having your gun rights reinstated, such as:
Having your felony reduced to a misdemeanor charge
Having the case dismissed, preventing you from being charged with a felony
In many cases, having a felony charge reduced to a misdemeanor reinstates all your rights which were removed in the State of California, including the right to own and possess firearms. However, there are certain circumstances where you might still not be able to own guns even after having your charge reduced. These are defined under the United States Code 922g and California Penal Code 29805.
William Kroger is a knowledgeable and experienced LA criminal defense attorney, and our legal team has a proven track record of having firearm and drug related felony charges reduced or dismissed entirely. If you are currently facing a felony charge, call 323-655-5700 as soon as possible for a free consultation so we can discuss your case and how we can help.
When Can My Felony Be Reduced?
In order for your felony charge to be reduced to a misdemeanor the charge must be a "wobbler." In other words, the charge must carry the possibility of being charged as a misdemeanor or a felony. If the charge you are being faced with does not have the option to be charged as a misdemeanor, then it cannot be reduced. However, you may still have other options which we'll discuss below.
An LA criminal defense attorney can move to have your charge reduced to a misdemeanor under California Penal Code §17b as long as:
The charge is a wobbler, as defined above
Probation was granted, and was not violated
If you were never granted probation, or you were but you violated it, then you are unfortunately disqualified from having your felony reduced.
If you have not yet been sentenced with a felony, then there are other strategies we can use to help you keep your rights. Our legal team may be able to have the specific felony charges dismissed or to have your case dropped entirely. However, we can only pursue those options if you have not yet been sentenced, which is why it is imperative that you call 323-655-5700 as soon as possible if you are facing a felony charge in West Hollywood or anywhere else in Los Angeles.
The sooner you get in touch with us, the sooner experienced LA criminal defense attorney William Kroger and the rest of our legal team can get to work preparing your defense.
Do I Always Have my Gun Rights Reinstated if a Felony is Reduced?
Misdemeanor charges do not typically cause any of your rights to be lost. However, there are circumstances in West Hollywood, LA, and all of California where you still may not be able to own firearms, even after having your felony reduced.
California Penal Code §29805 lists over 40 misdemeanor charges which place a 10-year ban on owning or possessing firearms on those convicted of them. These misdemeanors include, but are not limited to:
Stalking
Assault
Domestic battery or violence
If you are convicted of a charge which is included in the list, you will not be able to own a firearm within the state of California for 10 years after the conviction. This applies even if the charge was originally a felony and was reduced to a misdemeanor.
18 United State Code §922g also details many restrictions around gun control. It includes a list of situations where a person is not allowed to own or possess a firearm or ammunition.
This list includes:
Anyone addicted to a controlled substance
Anyone dishonorably discharged from the Armed Forces
Anyone convicted in any court of a misdemeanor crime of domestic violence
Anyone who has had a restraining order placed against them by an intimate partner where they were proven to be a credible threat to the safety of their partner or child
As such, anyone charged with any of the above offenses will still have their right to own firearms revoked for their lifetime, even if the charge is only a misdemeanor. This applies even after the 10-year ban is lifted in California.
Strategies for Reinstated Rights: How We Can Help
With over 20 years of experience as a criminal defense attorney in Los Angeles and an exceptional track record, William Kroger and our legal team are your best option for reducing your felony charge or having it dismissed entirely.
Having your felony reduced brings countless benefits and helps you retain your quality of life. We recognize how seriously this can impact your life, and William Kroger gives each and every case his personal attention.
Reach out to us today in order to get knowledgeable and experienced LA criminal defense attorney, William S. Kroger, and the rest of our legal team on your side. Call 323-655-5700 for a free consultation so we can begin preparing your defense as soon as possible. The sooner you call us, the more we can help.