What are the Penalties for Selling Cocaine in Beverly Hills?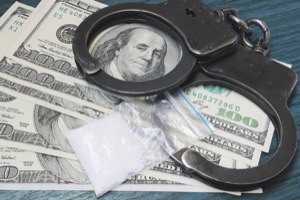 Cocaine is often thought of as a modern drug, but its roots actually date back to more than a century ago. While being found in personal possession of cocaine carries penalties, being found possessing cocaine with the intent to sell it carries even heavier penalties. What are the penalties for selling cocaine in Beverly Hills?
Being charged with the intent to sell cocaine in Beverly Hills, or anywhere else in Los Angeles, carries potential penalties of:
Up to four years in a state prison
Up to $20,000 in fines
Both the fine and prison time
If you possess more than one kilo of cocaine or cocaine base, you can receive an additional:
3 to 25 years in state prison
Up to $8,000,000 in fines
Both additional fines and prison time
These penalties are laid out under the California Health and Safety code §11351 and the California Penal Code §1170. Drug possession with intent to sell cases are very complex. We will discuss when you can be charged, the severity of the charges, and how we can help you in detail below.
Because of the severity and complexity of being charged the intent to sell cocaine in Los Angeles, you need a trusted and knowledgeable LA criminal defense attorney. William Kroger and our legal team here have decades of experience and an excellent track record defending against drug related charges. Call us at 323-655-5700 for a free consultation so we can discuss the details of your case immediately.
When Can I be Charged with Selling Cocaine in Beverly Hills?
In order to be charged with this offense, the prosecution must prove that you:
The amount of cocaine does not disqualify you—even personal amounts of cocaine can still get you charged with intent to sell.
The prosecution may try to prove your intent to sell by:
Showing that you had the cocaine packaged for sale
Showing that you were also in possession of empty bags, a scale, measuring equipment, or other paraphernalia that indicates your intent to sell
Highlighting how many people who are not related to you entered and exited your property in a certain timeframe, which arouses suspicion
These are all areas which must be considered when preparing a defense, and you need a criminal defense attorney with the experience to handle your case. Our legal team here has a proven track record for defending drug related charges, and William Kroger is a trusted LA criminal defense attorney with over 20 years of experience defending drug possession and sale charges in Los Angeles.
Contact us as soon as you can at 323-655-5700 in order to receive a free consultation on your case.
Can I Enter a Drug Rehabilitation Program to Reduce My Penalties?
Under California Proposition 36 and the California Penal code §1000, certain people charged with possession of cocaine may enter a drug rehabilitation program instead of receiving other penalties.
However, being charged with the intent to sell cocaine disqualifies you from entering those programs. We may be able to help have your charges reduced or dropped in order to qualify you for Proposition 36, so it's important that you contact us immediately to discuss your options.
Is Selling Cocaine a Felony or a Misdemeanor in Beverly Hills?
The sale of cocaine carries felony charges, whether in Beverly Hills or elsewhere in Los Angeles. Felony drug charges carry serious potential for high penalties and being charged with a felony forever alters your quality of life.
If you are charged with a felony possession with intent to sell of cocaine, on top of jail time and/or fines, you will:
Be unable to own or possess firearms or ammunition for the rest of your life
Be unable to be employed in certain areas of work, such as teaching, policing, or serving in the armed forces
Find it more difficult to travel abroad, as some countries may refuse your entry
Can My Charge Be Reduced?
Felony charges related to selling cocaine do have the potential to be reduced in future. However, this may not restore all your rights and freedoms.
The better option is to fight to never receive a felony conviction in the first place. An experienced Los Angeles criminal defense attorney can employ strategies in order to attempt to have the charges dropped or reduced before you are sentenced.
Legal Defense Strategies: How We Can Help
Drug possession, sale, and transporting charges can be complex and difficult to fight. You need an experienced criminal defense attorney to mount a defense against them.
William S. Kroger and the rest of our legal team here have over 20 years of experience defending drug related charges and a proven track record defending cases like yours in Beverly Hills, West Hollywood, Santa Monica, Malibu, and everywhere else in LA. We are your best option for having your drug-related felony charges reduced or dismissed entirely.
If you are facing a potential felony drug charge for selling cocaine, contact us at 323-655-5700 as soon as possible for a free consultation so we can discuss the details of your case. The sooner you contact us, the sooner we can begin preparing a successful defense.