How to Carry a Pistol in Your Car Legally in California
Being charged with any type of gun crime is very serious and can carry severe consequences that can alter your life forever. It's important to know what the laws are so you can make sure you aren't inadvertently doing something illegal. If you want to carry a firearm in a car, you need to make sure you're following all the rules.
The best way to carry a firearm while in a vehicle is to obtain a concealed carry permit. Once you have completed the application process and received the permit you can carry a firearm concealed on your person or in your vehicle completely legally. Click here to learn more about how we can help you get your permit.
Carrying Firearms In a Vehicle
In California, you must meet certain criteria to legally carry a firearm in your car. To legally transport a firearm in your vehicle, it must be:
Unloaded;
Locked in the trunk of the vehicle or in a locked container inside of the car (other than the glove box); and
Apparent and not concealed.
Whether you're the driver or the passenger, these are the rules that must be followed to transport a gun in a car. In order to place the weapon in the car legally, you must take the gun directly to and from the vehicle, carried in a locked container before you place it into your car.
You can Only Carry a Gun for Transport
If you don't have a license to carry a firearm, you are only permitted to take the firearm in your vehicle as a means of transporting it from one specific location to another. For example, if you're moving into a new house and need to transport your firearm to your new residence, you can do so legally if you follow all requirements. However, you're not allowed to simply carry the gun around in your car for as long as you wish. You must transport it from your old house to your new house immediately and directly. Keep in mind that if your vehicle is a motor home, it is considered a vehicle, not a home.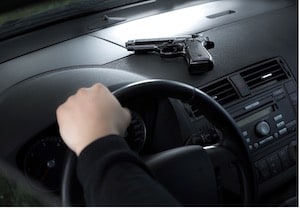 What Does Unloaded Mean?
For a gun to be considered loaded, it typically means there is a live round of ammunition in it or attached to it in any manner. This includes having ammunition in the firing chamber or a magazine or clip attached to the weapon. For example, if you are carrying a semi-automatic weapon with an empty firing chamber but a loaded magazine inserted into the magazine well, this is considered a loaded firearm.
There's nothing prohibiting you from carrying ammunition in the same locked container as the firearm, but the gun must not be loaded or attached to the ammunition in any manner.
What is a Locked Container?
Under California law, a locked container is defined as one that is secure and fully enclosed and locked using a padlock, lock with a key, combination lock, or any similar locking device. A locked container does not include the glove compartment or utility compartment. A utility compartment isn't explicitly defined under California law, but just to be safe, it's inadvisable to carry a firearm in the center console, even if it locks, or any other storage compartments that are typically found in vehicles. It's essential to utilize a self-contained container that locks. The container you use for carrying your firearm does not have to be hard-shelled – a gun bag or range bag is sufficient as long as it locks appropriately.
Carrying/Transporting Firearms That Cannot Be Concealed
The above laws all relate to firearms that can be concealed in a locked container. Some guns cannot be concealed, such as shotguns, rifles, carbines, and submachine guns. Typically, these types of weapons do not have to be in a locked container. According to federal law, any firearm that cannot be concealed and has moved in or affects interstate or foreign commerce must be in a locked container or a gun rack when transporting it through a school zone. Firearms that do not implicate interstate or foreign commerce do not have to be locked when traveling through a school zone in California.
Who is Permitted to Carry Firearms in a Vehicle?
In order to be permitted to legally transport a firearm in a vehicle, you must meet the following criteria:
You are at least 18 years old;
You are a United States Citizen; and
You permanently or temporarily reside in California.
Attorney William S. Kroger is Here to Help
If you're not sure which rules and regulations govern the transportation of firearms in the State of California and what steps you have to take to do so legally, you should always consult with a lawyer. The last thing you need is to be pulled over and arrested for illegally carrying a firearm when your intentions were to follow the law. Gun charges are serious, and ignorance of the law is not a defense. It's your responsibility to make sure you're doing everything legally. If you were arrested or questioned by the police about a gun charge, contact Attorney William S. Kroger right away. Attorney William S. Kroger has been practicing criminal law for decades and will do whatever it takes to defend you and get the best outcome possible. Don't hesitate to reach out for a free, confidential consultation. Set up a meeting by calling 323-655-5700 or by messaging us today.