Violating A Curfew Order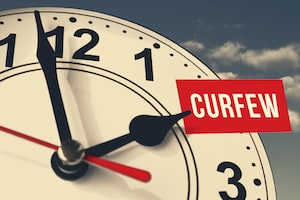 With the recent protests against police brutality taking place throughout America in the wake of George Floyd's death at the hands of Minneapolis police officers, states have been imposing curfews all over the country. Los Angeles County Sheriff Alex Villanueva stated that he would be enforcing a countywide curfew on all incorporated and unincorporated areas of Los Angeles County. According to the Los Angeles Police Chief, Michel Moore, 2,700 people have been arrested since the protests began, and 2,500 of them were arrested for violating curfew or failure to disperse. If you or someone you love have been arrested in Los Angeles due to a curfew violation, call the Law Offices of William Kroger today at (323) 655-5700 to speak with one of our attorneys.
Los Angeles County Curfew
Emergency curfew laws are put in place in the event of a natural disaster, public health crisis, or ongoing civil disturbance. In a similar circumstance as today, Los Angeles implemented a dusk-to-dawn curfew in 1992, when LAPD officers responsible for the beating of Rodney King were acquitted, and citywide riots broke out.
As protests over the death of George Floyd began to turn violent last week, mayor Eric Garcetti announced that he would be putting a curfew in place for Downtown Los Angeles in order to keep residents safe. The curfew was then changed to include the entire city. The curfew dictates that citizens are not allowed to be out on public streets, public places, parks and alleys between the curfew hours, which have changed from 6:00 P.M. and 6:00 A.M. to most recently 10:00 PM to 5:00 AM. But residents have been confused by the curfew hours as some cities had earlier curfew times than the county. For example both Santa Monica and Beverly Hills had curfews that began earlier than the county curfew. Per the Sheriff's instructions, if a local curfew has an earlier time, the resident should adhere to that time instead of the county time.
As of June 3rd, the curfew time is 10:00 PM to 5:00 AM. The Sheriff released the curfew order stating, "Small groups of individuals seeking to incite violence and looting have disrupted some of the peaceful protests with criminal behavior. These actions forced the need for a curfew throughout Los Angeles County in order to protect life, protect property, and restore order." In an interview with KTLA5 he also stated that the curfew would continue until the protests were over. The curfew order does not apply to homeless people, those traveling to and from work or seeking medical treatment, fire fighters, peace officers, National Guard or members of the media.
Penalties for Breaking Curfew in Los Angeles
Violating the Los Angeles curfew order will result in a misdemeanor offense that is punishable by a fine of up to $1,000, or by imprisonment for up to six months, or both. (LACC section 2.68.320).
Although a curfew law does not apply to your yard, porch, or driveway, an order from a law enforcement officer supersedes the curfew law. Meaning, a direct order during curfew such as "Get inside" has to be followed, even on your own property, otherwise you can be charged with breaking the law.
Contact A Criminal Defense Attorney
If you have been charged with a curfew violation in Los Angeles, consult with a criminal defense lawyer right away. With the current COVID-19 pandemic, the last place you want to find yourself in is the inside of a jail or prison, where the risk of infection is much greater. Contact the Law Offices of William Kroger and speak with one of our attorneys about your legal rights. Call us today at (323) 655-5700, we can help.