Looting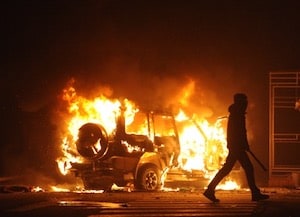 When a riot, natural disaster, or other city or statewide emergency occurs, there's a high probability that members of the public will succumb to the chaos around them and engage in theft and crime offenses. Looting is an atypical theft or burglary crime that takes place during a state of emergency. In order to prevent people from stealing during a time of civil unrest or natural disaster, California has harsh penalties for those who are convicted of looting. If you have been charged with the crime of looting in Los Angeles, you should speak with an attorney right away. Call the Law Offices of William Kroger for a free consultation at 323-655-5700.
What is Looting in California?
The most famous example of looting in Los Angeles took place during the 1992 Los Angeles Riots, when four officers charged with excessive force in the beating and arrest of Rodeny King were acquitted. Thousands of people took to the streets and began rioting over a 6-day period, engaging in arson, assault and looting.
California Penal Code 463 defines looting as committing an act of petty theft, grand theft, or burglary during a local or statewide state of emergency. This happens when a governor or a governing body declares a state of emergency for either a citywide or a statewide event. A state of emergency can be triggered by any type of emergency that impairs the personnel, facilities, or services of a particular area.
Some common reasons for a state of emergency include:
Riots
Floods
Fires
Earthquakes
Storms
Penalties for Looting in Los Angeles
The penalty for looting in Los Angeles depends on a few different factors, such as the value or type of item taken. If a defendant is convicted of looting involving petty theft, which is the theft of goods with a value of under $950, it will result in a misdemeanor charge that has the maximum punishment of six months in jail, $1,000 in fines, and 80 hours of community service.
If a defendant is convicted of looting involving grand theft, which is the theft of goods with a value of over $950, a car, or a firearm, they are looking at a "wobbler" offense, meaning it can be charged as either a misdemeanor or felony, depending on the defendant's criminal record. Both felony and misdemeanor grand theft looting charges have a minimum jail sentence of 180 days. For the misdemeanor, the maximum jail sentence is one year. The maximum prison sentence for the felony is three years. Meanwhile looting involving grand theft of a firearm is always a felony that can be punished by up to three years in prison.
If you are facing looting charges, contact a Los Angeles criminal attorney as soon as possible.
Defenses Against Looting
Because of the unusual set of circumstances under which looting takes place, it can actually be a difficult crime to prove. Reliable evidence can be difficult to obtain, and police officers often violate search and seizure laws. There also may be reasonable explanations to allegations of looting, such as necessity.
The most common defenses against looting charges are proving that you were mistakenly identified, proving that police did not follow due process, or proving that you did not intend to loot.
Contact an Experienced Criminal Defense Attorney
Because looting takes place during very chaotic circumstances, it can be a tough crime to prosecute, and with the help of a skilled lawyer you can have really good chances of avoiding a conviction. Contact the Law Offices of William Kroger today for assistance if you or someone you know has been charged with looting. We are deeply steeped in California law and know exactly how to help you in this situation.
If you're facing a looting charge, give the Law Offices of William Kroger a call at 323-655-5700 for a free consultation.