Embezzlement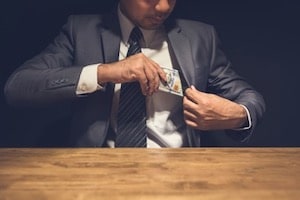 The crime of embezzlement is the fraudulent taking of personal property or money with which one has been entrusted. Embezzlement is most associated with a corporate work place setting, and it tends to be committed by managers, CEO's, executives, politicians and other persons in a position of power within a company or organization. If you have been accused of the crime of embezzlement in Los Angeles County, contact a Los Angeles embezzlement attorney as soon as possible.
Embezzlement has often been viewed as a crime affecting the very wealthy, and only seen in movies. If the name Bernie Madoff rings a bell, it's because he ran one of the largest embezzlement scams in history, totaling $50 billion. Madoff is a large-scale example of this white collar crime, as he took money from new investors to pay old investor's "returns." In 2009 he was sentenced to 150 years in prison for his crime. But the truth of the matter is that embezzlement can happen in any socioeconomic environment.
As you can see, embezzlement charges are not a laughing matter. Even if the charge is for far less than $50 billion, you are still facing serious consequences if convicted. If you're facing an embezzlement charge, it's imperative that you speak with an attorney right away. Let us help you, call the Law Offices of William Kroger and speak with an embezzlement attorney serving Los Angeles at 323-655-5700.
What is Embezzlement in California?
Embezzlement (California Penal Code Section 503 PC) is a type of theft, sometimes also referred to as employee theft. Under California law, embezzlement is defined as an unlawful theft of something that has been entrusted to you that belongs to another person. Most theft crimes involve the taking of someone's property without their permission. Embezzlement is different in that the property was legally possessed by you at some point, but later it was taken without permission.
In order to be convicted of embezzlement, the prosecution must prove the following:
The person has a relationship with the victim, usually an employer–employee relationship.

Within the scope of the relationship, the person was entrusted with property or money or any other item of value, and they took it with the specific intent to deprive the true owner of the property.
A good example of embezzlement is a store employee who pockets the money from every other sale, or an employee who decides to borrow rent money by writing a check on the company's checkbook with the intent to eventually pay it back. Embezzlement does not have to involve money, it just has to involve you abusing your position of trust to take property that has value.
If you've been charged with the crime of embezzlement, speak to an embezzlement attorney serving Los Angeles right away.
Penalties for Embezzlement in California
Embezzlement is considered a white collar crime in California, and can be charged as a misdemeanor or felony. It's misleadingly known as a crime of the rich, but embezzlement can be charged as a petty theft crime if the money or property stolen is valued less than $950. On the other hand, it can be charged as grand theft embezzlement if it is $950 or more.
Embezzlement charges depend on mitigating (helpful) and aggravating (harmful) factors, such as:
The value of the property embezzled.
Prior criminal history.
Whether the defendant tried to return the property.
The degree of harm suffered by the victim.
Whether the victim was elderly or disabled.
A conviction of misdemeanor grand theft embezzlement carries the punishment of:
12 months in a Los Angeles County jail.
Fines of up to $1,000.
Restitution, and/or probation.
A conviction of felony grand theft embezzlement carries the punishment of:
16 months, 2 years, or 3 years in a California State prison.
$10,000 in fines.
Restitution; and/or probation.
Contact Kroger Law Group
If you're facing criminal charges for embezzlement in Los Angeles, speak to a Los Angeles embezzlement attorney right away. The consequences of being convicted of embezzlement are very serious, and your future might be gravely affected as it can be extremely hard to find employment with embezzlement on your record. Let us help, call the Law Offices of William Kroger for a free consultation at 323-655-5700.