Compassionate Release During COVID-19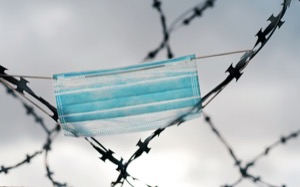 Amidst the COVID-19 pandemic, prisons and jails have been under pressure to protect inmate safety. General William Barr has called on officials running prisons to utilize early release policies in order to help halt the spread of this infectious disease. That means qualified prisoners who are most vulnerable to the virus, due to age or medical conditions, would be able to finish off their sentence from home.
Compassionate Release Qualifications
Almost every state already has compassionate release programs for prisoners who are:
Elderly
Terminally ill
Sick or otherwise debilitated
However, the statistics show that very few inmates are released this way. The standards for eligibility are strict and there are multiple reviews necessary in order to be approved.
Compassionate Release Nationwide for COVID-19
The implementation of General Barr's call for increased compassionate releases amid COVID-19 has not gone smoothly so far. Prisons have argued that they their conditions are not that dangerous and they have the facilities required to handle the outbreaks, so they have been reluctant to allow more compassionate releases. However, judges have begun loosening the typically strict requirements and looking at compassionate release pleas from those who would not usually qualify.
For example, at the moment the age of the prisoner alone is a big enough factor since it's a large risk-factor for the disease. For example, at the moment the age of a prisoner can be a big enough factor to qualify for compassionate release because old age is a high-risk factor for COVID-19. Obviously, there is a lot of concern about prisoners during this pandemic who have serious chronic medical conditions such as heart disease, diabetes, or lung disease.
According to the Federal Bureau of Prisons, they are currently prioritizing:
Prisoners who have served at least 50% of their sentence
Prisoners who have served at least 25% of their sentence and have less than 18 months left
Compassionate Release in California
Fortunately for inmates in California, Governor Gavin Newsom announced in March that 3,500 nonviolent inmates would be released in order to reduce prison populations and slow the spread of the disease. This would be the largest release in any state. However, prisoners who are serving time for the following charges are not eligible for early release:
Violent crimes
Sex related crimes
Domestic abuse
Why Increase Compassionate Releases?
Overall, compassionate release is in the best interest of everyone at the moment. Prisons notoriously suffer from basic hygiene issues due to a few reasons:
There is a complete lack of hand sanitizer
Soap often has to be purchased by prisoners
There is a high volume of people in a single place
If a prison with a large population has a major outbreak of COVID-19, then it would only overload the state's medical system even more.
The move to release prisoners early is not only beneficial to inmates but to those who work at these facilities as well. The California Department of Corrections and Rehabilitation stated on their website that as of August 21st, 2020 there are:
1,281 inmates with active cases of COVID-19
1,282 staff with active COVID-19 cases
28 inmates who were transferred to receive medical care outside prison facilities
Understanding Compassionate Release in LA Under COVID-19
The United States has one of the highest rates of incarceration in the entire world, and a prison or jail cell is the last place anyone wants to find him or herself in during a pandemic. A correctional facility is a place where inmates have to share cells, showers, and dining areas—a perfect situation for an infectious disease like COVID-19 to spread.
There is no reasonable ability to successfully execute social distancing under such conditions, and inmates who are eligible should not have to risk their lives when they can successfully and safely finish their sentence at home.