Carjacking Crime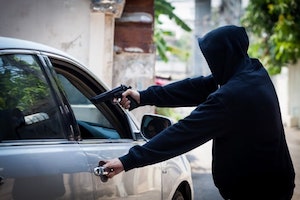 Carjacking is the crime of taking a vehicle from another person through force or fear. In Los Angeles, carjacking is treated as one of the most serious offenses under the California Penal Code. Carjacking is always charged as a felony in Los Angeles and a conviction that could send you to prison for years. If you're facing carjacking charges in Los Angeles, contact a Los Angeles carjacking defense attorney today.
With your freedom on the line, it is important to hire an experienced criminal defense attorney to be your advocate. A conviction is NOT a foregone conclusion, and your attorney may be able to negotiate the charges down to a lesser offense or even have the charges dropped entirely. If you or a loved one have been charged with carjacking contact Kroger Law Group to speak with a Los Angeles carjacking defense attorney and discuss your options at 323-655-5700.
What is Carjacking in California?
According to California Penal Code Section 215 PC carjacking is the theft of a motor vehicle that's in someone else's possession or within their immediate presence, against their will, through force or fear, and with the intention of permanently or temporarily depriving them of it.
If all of the elements above are not met, carjacking has not been committed. It should be noted that individual elements of the crime of carjacking are lesser offenses. For example, if you unlawfully take a car that isn't in the presence of another person you aren't guilty of carjacking. Instead, you will likely be charged with theft.
Immediate Presence of Another Person
Merely taking a car that belongs to another person alone doesn't rise to the level of carjacking. To obtain a conviction for carjacking, the prosecutor must show that the car was in the possession and immediate presence of another person.
While the word carjacking evokes images of a victim being pulled from a vehicle, California law defines carjacking more broadly. A car is in the immediate presence of another person if it is within their reach, observation, or control so that they could otherwise maintain possession of the vehicle.
This means that a carjacking victim can be a passenger, driver, or even outside of the vehicle at the time the crime occurs.
Taking a Car Against Their Will
Carjacking requires the taking of the vehicle to be against the will of the victim. In other words, if the alleged victim consents to you taking the car you are not guilty of carjacking. Keep in mind that consent must be willful; a person handing over their car willingly out of fear is still against their will.
Force or Fear
Finally, carjacking requires the use of force or fear to take the car. Force is described as an act of physical force, while fear is the fear of the consequences from the use of physical force.
Penalties for Carjacking in Los Angeles
Carjacking is a violent felony that is harshly sentenced by prosecutors. The minimum penalty for carjacking under California law is either:
One year in county jail, or
Three, five, or nine years in California state prison.
These penalties are per victim and can, therefore, accumulate depending on the circumstances. What's more, a conviction carries a maximum fine of $10,000. You may also face additional penalties if any of the following enhancements were present at the time the carjacking was committed.
Great Bodily Harm: According to California Penal Code Section 12022.7 PC, your sentence will be enhanced if the carjacking resulted in great bodily harm to the victim. Great bodily harm is a substantial physical injury. A great bodily harm enhancement will add either three or six years consecutively to your original sentence.

Gang Enhancement: If the carjacking was undertaken "for the benefit of, at the direction of, or in association with any criminal street gang," you will be subject to California's gang enhancement. Under California Penal Code Section 186.22 PC, you will face an additional 15 years to life in prison on top of your standard sentence for carjacking.

"Use a Gun and You're Done" Law: Under California Penal Code Section 12022.53 PC if you brandish a gun during a carjacking, you will face an additional 10 years in prison to be served consecutively with your original sentence. That enhancement goes up to 20 years if you fire the gun, and 25-years-to-life if you kill or seriously injure a person during the carjacking.
Los Angeles Carjacking Defense Strategies
There are valid defenses to every crime, and carjacking is no exception. If you're charged with carjacking in Los Angeles County, a carjacking defense attorney serving Los Angeles can help you come up with a strong defense strategy.
Two of the most common defenses in carjacking cases involve the lack of force or fear and consent from the car owner.
Lack of Force or Fear: If you did not use force or fear to acquire the car, then it's not carjacking. For example, if you simply took the vehicle while no one was present you did not meet the requirement of using force or fear to acquire the vehicle. Keep in mind, in that situation you would still face serious criminal charges.
Consent: Simply put, you can't carjack a person who voluntarily let you use their vehicle. Even if you continue to keep the car longer than originally agreed, the important factor is that you had consent at the time you took the car. Again, while this defense absolves you of carjacking, you will still likely be on the hook for other crimes.
Contact a Los Angeles Carjacking Defense Attorney
If you or a loved one have been charged with carjacking in Los Angeles County, contact a carjacking defense attorney serving Los Angeles right away. Your future and freedom may depend on it. The attorneys at Kroger Law Group are some one of the top criminal defense attorneys in Los Angeles County and have the record of success to show for it. To discuss your case, contact the Law Offices of William Kroger for a free consultation at 323-655-5700.