Arson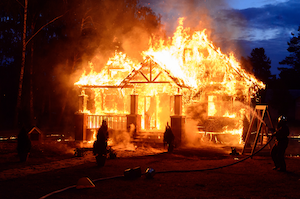 Arson is a crime that involves the illegal burning down of property through the use of fire. Property can be anything from a building to a forest or boat. It is a felony offense that carries serious consequences. There are different types of arson felonies in California, but most of them involve property damage, or some form of injuries or loss of life. If you or a loved one have been accused of arson, you should seek the representation of an experienced criminal defense attorney. Contact the Law Offices of William Kroger at (323) 655-5700 for a free consultation.
California Laws Regarding Arson
Arson crimes are defined under California Penal Code Section 451 which states that, "A person is guilty of arson when he or she willfully and maliciously sets fire to or burns or causes to be burned or who aids, counsels, or procures the burning of, any structure, forest land, or property."
California Arson Penalties
Arson is pursued aggressively by authorities in Los Angeles and nearby areas, because the general dry conditions of the city give it prime potential for a fire to quickly spread and start a disastrous and out of control situation.
In most cases arson is charged as a felony because it has such great potential for causing serious injury or even death. There are different degrees of arson. For example causing great bodily injury with arson is on a more serious level than burning down inhabited property. Listed below are the possible penalties for the different types of arson:
Great Bodily Injury: When arson causes great bodily injury, it is charged as a felony for which the punishment is prison for up to nine years.
Arson of Inhabited Structure or Property: When arson burns down an inhabited structure or property, it results in a felony that's punishable by imprisonment for up to eight years.
Arson of A Structure of Forest Land: Arson of a structure or forest land results in a felony that's punishable by imprisonment of up to six years.
Arson of Property: Arson of property results in a felony that's punishable by imprisonment of up to three years.
Additionally, you may face sentencing enhancements, meaning your penalties may be increased further if:
The fire caused an excessive amount of damage.
You have ben previously convicted of arson charges.
More than one person suffered great bodily harm during the fire.
The fire caused a firefighter or other emergency personnel great bodily harm.
Multiple structures were burned down during the fire.
You will not be facing an arson crime if you burned down your own property, unless you did so in order to defraud your insurance agency, or if the fire injured a person or someone else's property.
Aggravated Arson
You may face charges of aggravated arson if the fire caused damage in excess of $7 million, if you have had an arson conviction in the past 10 years, or if the fire caused damage to at least five structures. Aggravated arson is a felony that can result in a penalty of between 10 years to life in prison.
Homicide Arson
If the fire you started ends up killing someone you can be charged with murder, which can result in life in prison.
Defenses Against Arson Charges
In order to prove arson charges, the prosecution has to prove that you were the one who caused the fire, and that you did it willfully and maliciously. Even a fire caused by something such as a cigarette thrown on a hike into dry grass can cause you to face arson charges.
A skilled attorney can help you with a solid defense. For example, maybe the fire was an accident or was started by an electrical malfunction. Or maybe you are being falsely accused. Whatever the case, an experienced arson attorney might be able to get your charges reduced or dismissed.
Contact A Los Angeles Criminal Defense Attorney
Being convicted of arson is a tough position to be in. It may require you to register as an arson offender for life, which will put your name on the California Arson Registry. A criminal record can prevent you from getting a job, getting an apartment or a house, or getting a loan. It may also give you serious issues with immigration and child custody.
At Kroger Law we are seasoned in arson cases. We know what to look for in the investigation reports and we work hard to find anything that might help with your case. If there is not enough evidence to convict you, we will be able to show that.
The consequences of arson crimes and the potential of spending years or even life in prison are scary. That's why we are here to help you navigate through this difficult time. If you or someone you love have been charged with arson in Los Angeles, you need an arson defense lawyer. Contact the Law Offices of William Kroger for a free consultation at 323-655-5700.